Georgetown University recently announced that it would fundraise $400,000 a year to benefit the descendants of 247 slaves sold by the school's Jesuit founders in 1833, after students voted to make a reparations fund in April. The money will go toward funding community projects like schools and health clinics for the over 4,000 living descendants.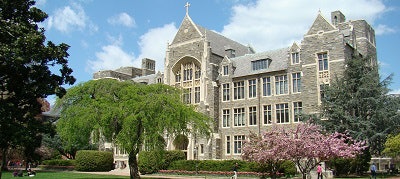 The official decision, publicized last week, comes on the heels of similar announcements from Princeton Theological Seminary in October and Virginia Theological Seminary in September. Princeton Theological Seminary is offering $27 million toward scholarships and related projects, and Virginia Theological Seminary created a $1.7 million reparations fund.
In a growing reparations movement, universities are looking for ways to financially give back after discovering historic ties with slavery, provoking difficult conversations on campus about what restitution means and how much, if anything, is enough.
But for religious higher education institutions, reparations involve another layer of dialogue – struggling with not only their tangled financial pasts but their theological contributions to slavery.
"People have to wrestle with the fact that many of these institutions produced pro-slavery theologians," said Dr. Yolanda Pierce, dean of Howard University's divinity school. Pierce also founded the Center for Black Church Studies at Princeton Theological Seminary.
"It isn't that we're just simply talking about people who physically held people in bondage, though there were plenty of them," she added. noting that theologians, pastors and priests at many of these institutions would go on to write pro-slavery theology. "I think there is and there has to be a wrestling with that history."
Pierce described that history as "complicated." Some Christian denominations broke away to reject slavery. Some saw the mere existence of slavery in the Old Testament as justification for it, while others pointed to New Testament texts that idealized servitude, like "Servants be obedient to them that are your masters," from Paul's letter to the Ephesians.
According to Dr. Terrence Johnson, an associate professor of religion and government at Georgetown University, these texts were taught to slaves by Christian owners to "point to this idea that if you were obedient, heaven is your reward."
Slaves simultaneously looked to texts like the exodus story for hope, so much so that scholars have found Bibles provided to slaves with the exodus story cut out.
Johnson said some Jesuits, the Catholic order that founded Georgetown University in 1789, held that African-Americans had souls and could be saved, an "enlightened" view at the time, but they still owned slaves themselves, while a number of Protestant sects fused racial pseudoscience with religious texts to paint slaves as "innately inferior."
When America's oldest universities were founded, theological justifications for slavery were a regular part of conversations happening in Biblical studies classrooms, Pierce said.
The reverberations of those debates are still felt on campuses. At Princeton Theological Seminary, Nicholas Young, president of the Association of Black Seminarians, is advocating for broader reflection, not only on the school's financial ties to slavery but the ways faculty used religious language to justify it.
"We are in constant conversation about how some people who crafted the institution used theology to contribute to White normativity," Young said. Prominent theologians who led the institution "failed to see people who had more melanin in their skin as their fellow humans, as people deserving of respect, as people deserving dignity and love, and deserving to be in the same space."
Johnson said confronting the theological underpinnings of slavery would call for a "deep reckoning" from religious higher education institutions, not just about the past but about how those ideas might influence today's institutions and theology's role in public discourse today.
"This is probably the next part of this conversation around reparations for slavery, that we have to come to terms with how we're using sacred texts and how we use sacred texts in public debates on justice," he said.
But what that reckoning should look like, in addition to financial reparations, is an open question. How can schools quantify and repair harm caused by a bad ideology – and generations of students trained in it?
For Young, the first step should be "courageous transparency" from these schools.
They should acknowledge the role their leaders played in "forming some terrible ideas that impact the world today," he said, and "listen to people who were impacted by the ideological residue of the people who weaponized theology."
Young has found Princeton Theological Seminary open to the idea, with the seminary making plans to adjust the curriculum to reflect more diverse voices.
"We are sensitive to the benefits of the institution being courageous in its attempts to repent, and that is why we continue to march on, to fight on, to pray on," Young said. "We pray to leave this place better than we found it."
Sara Weissman can be reached at [email protected].