Higher education has a role to play in creating world peace, according to peace and conflict studies scholars.
On Tuesday, the U.S. Institute of Peace co-hosted a discussion with NAFSA: Association of International Educators titled "The Role of Higher Education in Resolving Conflict and Its Consequences," in honor of International Education Week. Speakers from academia and the nonprofit sector explored how universities can contribute to peacebuilding efforts around the world.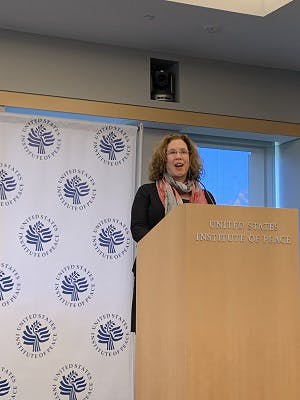 Keynote speaker Melanie Greenberg, the managing director for peacebuilding and conflict transformation at Humanity United, described universities as "crucibles for peace and social action."
"I continue to marvel at the role universities play in teaching peace, then serving as conduits and signal amplifiers for a new generation of peacebuilders," she said.
Greenberg sees higher education's place in the peacebuilding process as two-fold. First, academics offer up the theoretical frameworks that drive peace work, she said, developing theories to address and prevent conflict.
She also called universities cultivators of "moral imagination," which refers to a conflicting groups' ability to envision a "joint future," a term coined by University of Notre Dame Professor Dr. John Paul Lederdach. Because universities are so diverse, they naturally strengthen students' peacebuilding skills, she said, giving them opportunities to engage with difference and find commonalities.
On campuses, "you see people and experience ideas so different from yourself," she said. "You create cultural bridges."
She stressed that lessons about peacebuilding – strategies for dialogue, listening skills, the neuroscience of how people respond to conflict – aren't just important for students in peace and conflict studies but students in any field.
"… To have that DNA of peacebuilding in your curriculum, in your studies, in your extracurricular work, gives you the tools that you need to handle a world that's increasingly polarized," she said.
After her speech, scholars spoke about how higher education institutions like theirs can put peacebuilding at the center of their work.
Dr. Thomas Hill, director of the peace research and education program at New York University School of Professional Studies, said campuses should use their collective strength for the "institutionalization" of peace work, creating peace and conflict studies programs to "normalize" lessons for the "development of peaceful societies."
This institutionalization is a project for the entire higher education landscape, said Dr. Shirin Catterson Khosropour, director of the Center for Peace & Conflict Studies at Austin Community College. There, peace and conflict is a two-year associate degree in interdisciplinary studies, so "we've infused our existing courses with a focus on peace and conflict studies," she said. She emphasized that community colleges have an "enormous reach" and can bring peacebuilding skills to a broader student body, including immigrants, veterans, refugees and other underrepresented populations they serve.
NAFSA Board Member Dr. LaNitra Berger, senior director of fellowships at George Mason University, noted that diversity, equity and inclusion among students and scholars is a "crucial" part of effective peacebuilding education, as well as a preventative approach to conflict.
"We need more people at the table who look different from the current composition," Berger said.
But panelists debated who was missing from academia's peacebuilding table. Hill said not enough White men want to study peace, leaving the burden to people of color, while Khosropour felt that they remained the louder voices in the field.
White men are the ones "telling us what peace studies is and how we should do it," Khosropour said.
But peace studies programs, and education itself, is only a part of what colleges and universities can contribute to peacebuilding, said Beza Tesfaye, senior researcher at Mercy Corps, a humanitarian aid organization. Another is data.
Peacebuilding, as a field, lacks "rigorous evidence on which we can base our programs" because the study of conflict is "very complex" – and conflict zones are sometimes hard to access, Tesfaye added. She wants to see more research and less solutions "based largely on assumptions and intuition."
Tesfaye also noted that education doesn't promote peace without offering concrete ways students can use their education, citing research conducted by Mercy Corps in Somalia, which found that higher rates of secondary education didn't minimize conflict unless paired with a focus on civic engagement.
"When we think of what we can do to prevent young people from engaging in violence, we often think of training them, giving them education and skills," she said. "But we don't often think about their lack of opportunity to use those skills in a meaningful way."
Hill agreed that higher education's peacebuilding efforts can be "inward looking" or "disconnected," so part of his work is to help schools find "contextually appropriate" strategies to engage the communities they're trying to serve, whether that's offering online programs in multiple languages or sending peace and conflict studies graduate students off campus to teach workshops, like University of Duhok instructors have done in Iraq.
"There are ways that universities can get deep out into the community and have an effect," he said.
Sara Weissman can be reached at sweissman@diverseeducation.com.