There's a lot of talk about DACA students, as the U.S. Supreme Court deliberates on the Deferred Action for Childhood Arrivals program (DACA), which protects immigrants who came to the United States as children from deportation. But there's little conversation about university instructors and staff with DACA status, wrestling with the same uncertainty.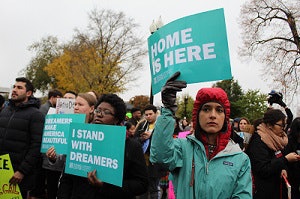 DACA recipients – like Gabriel Hernández Acosta, an admissions counselor at Mount Mercy University – have built their careers in higher education, only to risk losing them if the program is eliminated, as President Donald J. Trump attempted in 2017. Hernández Acosta's DACA status is what allows him to work in the U.S. Now he fears for his job – and his students – as the fate of DACA remains in flux.
"No matter how much I'm needed or wanted in this position, there's no certainty," he said. "It's the uncertainty that kills me."
Hernández Acosta was drawn to working in higher education in part because of his DACA status. When he was a DACA student, he didn't have counselors who had been in his position, so working with DACA students like him, "brings a little smile to my face," he said. He likes "helping them open some doors that I didn't even know were available for me."
As a DACA recipient himself, he understands how hard it is for DACA students to pay for college without federal financial aid, how stressful it can be to apply for DACA status renewal. He said that his DACA status brings an extra level of expertise to his work. But as higher education professionals with DACA status, "we sometimes forget to think about ourselves," he added. His students are a top priority.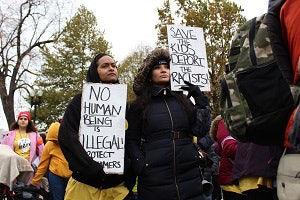 Hernández Acosta isn't alone. While there isn't data available on how many DACA recipients work at colleges and universities, a Migration Policy Institute study found that about 8,800 work in education as a whole.
DACA recipient Flavio Guzman Magaña – program assistant for the University of Southern California Dornsife Office for Diversity and Strategic Initiatives and program coordinator for Trojan Guardian Scholars – noted that it's easier for campuses to talk about DACA students because universities are less likely to face backlash.
"At the end of the day as an institution, we're in charge of making sure that students are supported and students have all these resources," Guzman Magaña said. "I don't think this is unique to education. For any organization, it's hard to take that step forward [for DACA employees] … because it's so easy to make it a political issue."
But for students and staff in his position, their immigration status is an all-encompassing concern, and he wants to see campuses treat it like a diversity, equity and inclusion issue.
"This is something that's always on our mind," he said. "It's something that impacts academic achievement, something that impacts the type of job opportunities you're able to get, something that impacts daily living."
He's been able to use the resources available for undocumented students at USC by going to the Gould School of Law Immigration Clinic for legal advice to renew his DACA status. The school is also considering creating a position to specifically support DACA staff, he said.
But as a small fraction of the over 700,000 DACA recipients in the U.S., higher education professionals with DACA status generally don't have a real sense of community or campus resources designated specifically for them.
In her work, Dr. Miriam Feldblum, co-founder and executive director of the Presidents' Alliance on Higher Education and Immigration, tries to keep DACA staff in mind when creating resources for colleges and universities to support their DACA communities. For example, her organization recently came out with a guide for campus leadership called "Supporting DACA Recipients on Campus: Top 5 FAQs for Public and Private Colleges and Universities."
As universities think about how to support their constituents if DACA is discarded, they need to offer "information, transparency and communication" to their employees, she said. "Universities as employers can only hire individuals who have work authorization. So, a conversation has to acknowledge the limits of what a college and university can do."
As a DACA recipient and academic counselor at California State University East Bay, Miguel Pimentel Davila would like to see that transparency from his institution. The university hasn't come out with a statement on what will happen to DACA staff or students if the Supreme Court decides against DACA, he said. It's possible staff members with DACA status could continue on as independent contractors or special consultants, he added, but it's not a conversation his campus is having yet. He wants to understand his options "as soon as possible."
It'll be a personal loss for staff like Pimentel Davila if DACA is overturned. But he also sees it as a loss for higher education, whose students benefit from the care of DACA professionals.
"My dream of being a counselor is going to go to waste," he said. But "it's going to affect the whole higher education system."
Sara Weissman can be reached at sweissman@diverseeducation.com.