WASHINGTON – Pictures of students flashed on a screen as their voices carried through the room at a session held on Friday at the Association of American Colleges and Universities (AAC&U) 2020 annual meeting.
"The more I thought about it, the more I wanted to be a civil engineer," said one student on screen.
"I thought, 'I'm not good enough for college,'" said another.
"NASA is one of my ultimate goals but I don't think I want to stop there – NASA and beyond," said yet another student.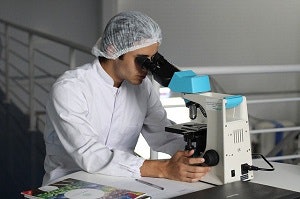 These video clips of students talking about their aspirations and struggles in science, technology, engineering and math fields were part of capstone projects run by the Louis Stokes Alliance for Minority Participation. The alliance is a multi-college program in Central Florida, and is working toward enhancing and supporting the participation of community college students in STEM fields.
"We ask them to tell their STEM story," said Kassy Holmes, the alliance's project director. "Part of the barrier that they have to overcome is realizing they even have a story worth sharing."
Holmes and others shared strategies – through interactive sessions for faculty and administrators – to help underrepresented students persist and thrive in STEM disciplines.
One panel focused on the Louis Stokes Alliance, a joint initiative between Valencia College, Lake-Sumter State College and Polk State College, as a model for other community colleges. This program offers students a cohort of STEM enthusiasts, hands-on mentors and research opportunities. Such guidance can be rare at two-year institutions.
What's more, the collaboration between the three schools allows them to share data about best practices across institutional boundaries, said Dr. Laura Blasi, the program's director of institutional evaluation.
Panelists stressed the value of a collaborative model, which Valencia College Assistant Vice President for Educational Partnerships Eda Davis-Lowe called "the heartbeat" of the Louis Stokes Alliance.
John Fynn, senior program specialist at Polk State College, said research experience is crucial for students to continue their science education, because otherwise "they won't have a clue what to do" when they transfer to four-year universities. He said it's important that students leave their community colleges prepared to succeed.
At the end of this panel, participants were given a questionnaire that asked them to evaluate their institutions' STEM infrastructure and their goals for supporting minority students.
Another panel Friday took a similar discussion-oriented approach. Participants talked about the reality that campus climate has a big impact on minority students' success in STEM fields.
Panelists from the National Center for Institutional Diversity at the University of Michigan spoke about how to mobilize STEM departments to create more inclusive environments.
STEM faculty often feel like climate on campus isn't within their control, said Dr. Tabbye Chavous, a University of Michigan professor and the center's director. She said faculty needs to be convinced that they have the ability to make tangible changes that can improve minority students' day-to-day experiences.
To engage professors and staff, the center ran a blog series covering research about the culture of STEM departments. The hope was "to serve as a bridge for a broader conversation," said Dr. W. Carson Byrd, a University of Louisville professor and a scholar in residence at the center.
The blog posts urged readers to think about how the competitive nature of STEM departments impacts underrepresented students, how students treat each other in and outside of the classrooms and labs, how to support STEM education at historically Black colleges and universities and how to encourage the success of STEM students with disabilities.
The center also convened a multi-college meet to bring people together to talk about the minority student experience in their departments.
Panelists said hosting meetings like this is a way for schools to collaboratively look at data and strategize how to address STEM-specific campus climate issues.
While multi-college conversations matter, it's also important to look inward as an institution, said Dr. Becky Wai-Ling Packard, a professor at Mount Holyoke College. Often, she said, people are doing creative equity and inclusion work in their own departments and those solutions could be replicated if departments shared information with each other.
As a former National Center for Institutional Diversity faculty fellow, Packard convened an interdepartmental meeting focused on the University of Michigan. The event connected STEM faculty across departments. The center shared testimonies from University of Michigan students. For example, a Black student said he sat near White peers in class so the professor would look at him. Packard said that such personal stories inspire faculty to ask each other, "How does this [problem] show up in your department?"
Toward the end of the session, participants paired off to talk about their own department culture for STEM students from minority backgrounds. People brought up challenges ranging from sustaining interdisciplinary collaboration beyond short-lived initiatives to making group lab projects more manageable for students on the autism spectrum.
"This is not just a single institution issue," Chavous said. "People are having the same challenges across spaces in higher education in optimizing access, equity and success for historically marginalized students in STEM fields."
Sara Weissman can be reached at sweissman@diverseeducation.com.