Free digital learning materials, or Open Educational Resources (OER), have been celebrated as a way to reduce student costs and even encourage them to take more credits. But how well do they work?
According to a new study, these online resources do save students money and at a manageable cost to colleges.
The study — conducted by SRI Education and rpk GROUP — assesses the impact of Achieving the Dream's OER Degree Initiative. Over two and a half years, the program enabled 38 community colleges in 13 states to offer 6,600 OER course sections, reaching nearly 160,000 students. About 2,000 instructors chose to participate, developing and facilitating these courses, which is more than Achieving the Dream leadership anticipated.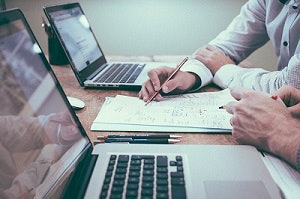 "It was, in fact, the largest ever study of (the) impact of Open Educational Resources and maybe even the largest ever orchestrated, mobilized movement to scale OER," said Dr. Karen A. Stout, president and CEO of Achieving the Dream, a nonprofit for higher education reform. "The study shows that OER implementation at scale saves cost for students, that it improved their learning experience and it's cost-effective for institutions."
Achieving the Dream announced the report's results at its annual conference in Maryland last week. The study showed that students at participating schools saved $65 per course on average, collectively saving roughly $10.7 million on textbooks.
About 41% of students surveyed said OER courses would significantly help them afford college. That percentage was higher for minorities and low-income students, highlighting the "equity dimension to this work," said Rebecca J. Griffiths, principal education researcher at SRI Education. The study shows "some positive results in terms of affordability, access, equity and student success."
Meanwhile, OERs also helped students to come to class more prepared than they otherwise would have been. In the past, more than half of students reported not buying the required materials, mostly because of cost.
"If you start by thinking about what that experience is for a student taking a class without the required textbook … you can imagine that that's a real barrier to success," Griffiths said.
The shift from books to digital resources did come with a cost to colleges, on average $576,000 toward paying for faculty to develop courses and providing general program support. This averages about $70 per student, according to the report. But researchers found that these costs were recoverable for colleges, and some schools even made extra revenue as more students enrolled in OER courses.
The study revealed academic advantages to using OER, as well. Digital learning materials are easily customizable, Stout said, which can lead to more unique, participatory courses. Students reported in surveys and in focus groups that these classes felt high in quality, both in terms of teaching and readings.
At its best, OER "can become a lever to create more engaging and relevant course materials that can speak to the diverse needs of the students in our classrooms," Stout added. "I think OER is a way to change the structure of the classroom to address the equity gaps we see [there]."
Students in multiple OER courses also had a higher amount of course credits compared to their peers. On average, they had three more credits toward their degrees.
But the study didn't find that underrepresented students benefited more than their peers in terms of accumulating credits, which Griffiths found "kind of surprising."
Still, she sees this "modest positive effect" on course credits, especially in a study of this size, as cause for hope as schools continue to develop OER courses and advertise them to the students who may need them most, she said.
While the report shows financial and academic gains for students, transitioning from traditional textbooks wasn't necessarily easy for instructors. It took faculty members nearly twice as much work time to plan for these courses compared to typical classes with textbooks.
Switching to OER was "asking a lot" of faculty, said Dr. Richard Sebastian, director of open and digital learning at Achieving the Dream. They got stipends for their time, but "the work was really tough."
Still, 83% of faculty reported that they wouldn't return to traditional textbooks.
Stout emphasized that the responsibility of bringing OER into the classroom shouldn't fall to a few passionate faculty members. It requires a concerted, campus-wide investment for schools to take full advantage of what OERs have to offer.
She wants to see colleges build awareness about digital learning materials across disciplines, train their faculty in how to use OERs and employ the help of librarians, technologists and curriculum specialists.
Colleges can't have a "haphazard" or "piecemeal" approach to OER, she said. Instead, the goal should be a "well-orchestrated and coordinated institutional effort that's strategic and scalable and sustainable."
Sara Weissman can be reached at sweissman@diverseeducation.com.