A new study shows cause for optimism about college completion trends, though racial gaps persist.
According to a report from the National Student Clearinghouse Research Center, completion rates rose in 43 states. The study analyzed state-level data from the last five cohort years in 45 states, echoing national trends from a report in December.
The executive director of the National Student Clearinghouse Research Center, Dr. Doug Shapiro, said two major factors account for the rise: students are getting younger and enrollment is growing leaner.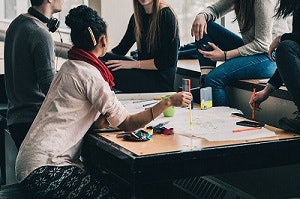 The report notes that adult learners, ages 25 and over, make up only 11.5% of the latest cohort, a percentage point below the class before. These students tend to have "more complex lives" with more responsibilities – jobs and families – and leave school at higher rates. So, a younger student body means more students stay, Shapiro said.
Simultaneously, as enrollment rates decrease across the country, "rather than go out and try and find new students … many colleges are finding that it makes more sense to expend more effort trying to hold on to the students that they have," he added. "That's actually good for students. Colleges are doing more to help them succeed."
In the study, some states saw more success than others. Only Alabama and New Hampshire faced declining completion rates, while a group of eight states boasted the highest increases in these rates, a jump of about nine percentage points on average: Ohio, Georgia, Michigan, New York, California, Utah, Iowa, Nevada and North Carolina.
The data also shows some promising completion trends for non-traditional students. Adult learners, especially older Hispanic women, had higher completion rates than students in the traditional age group.
This is, in part, because the center includes a wide variety of students in its calculations – students at four-year and two-year institutions, transfer students and students who finish their degrees elsewhere after stopping out.
"We want to make sure those students don't fall through the cracks when we measure success just because they didn't finish where they started," he said.
The study offers a few hopeful data points for minority students as well. Overall completion rates rose for Black and Latinx students in the latest cohort compared to increases for White and Asian students. And for Black men who started at public four-year colleges, the completion rate overtook the stop out rate, which dropped more than four percentage points.
The report points to North Carolina and Texas as the states that showed the most improvement in African American and Hispanic completion rates in the last cohort year. In North Carolina – where Black and Latinx students made up over a quarter of the most recent cohort – completion rates rose four percentage points to 77% of Hispanic students and two percentage points to 63% of Black students. Texas saw a rise of three percentage points in completion rates for both groups, 49% for African Americans and 59% for Hispanics.
But for Dr. Andrew Nichols, the fact that the report only highlights two states shows that most of the country is "still lagging behind," he said.
As senior director of higher education research and data analytics at The Education Trust, Nichols can appreciate the "positivity" of rising completion rates, but he thinks the real story is that states "need to try to think through carefully what they need to do to close those persistent gaps," Nichols added.
He's right – the report also revealed stubborn racial and gender disparities, both in terms of graduation rates and what kinds of degrees students attained. Black students, for example, were 40% less likely to graduate within six years compared to White and Asian peers. For White and Asian students at four-year colleges, engineering was the third most popular major. For Black students, it was in 12th place.
"Across most states, there are still very large and very discouraging gaps," Shapiro said.
In terms of gender, engineering was the second most popular major for men, while only 4% of women graduated with a degree in engineering. Meanwhile, computer information sciences and support services were the fourth most common major for men and the 18th for women.
Given these disparities, research like this offers "important benchmarks," said Dr. Julie Ajinkya, vice president of applied research at the Institute for Higher Education Policy, but the next step is to "dig a little bit deeper" and ask why some states are graduating underrepresented students more successfully than others – and how those strategies can be replicated.
"What we don't want to see is an increase in completion that's not helping our historically underserved populations," she said, "because that would actually be increasing equity gaps."
Nichols suggested that the key to increasing completion rates for minority students is implementing "race-conscious policy" at the state and university levels, resources explicitly designed to help students of color, not only low-income students. For example, he advised that states invest in schools where underrepresented students are overrepresented – like community colleges, historically Black colleges and minority serving institutions. Meanwhile, universities should offer support services specifically for students of color and work to ensure a welcoming campus climate that'll encourage them to stay.
People can be "uncomfortable discussing race, so they default to income which is oftentimes a more comfortable conversation and less emotionally charged," he said. But "states are going to have to start focusing specifically on race if they're going to see any significant movement in completion rates."
Sara Weissman can be reached at sweissman@diverseeducation.com.