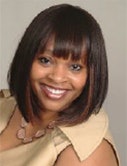 AUGUST MEBANE has been appointed associate vice chancellor of human resources at Winston-Salem State University. Most
recently chief human resources officer at the University of North Carolina at Chapel Hill's Adams School of Dentistry, Mebane
holds a bachelor's in English and legal studies from the University of Delaware. Mebane also earned a master's in organizational leadership from Wilmington University and a Ph.D. in organizational development and change from Colorado Technical University.