Kevin Richardson was one of five Black and Latino teenagers wrongfully convicted of sexual assault in the famous "Central Park jogger case" in 1989. At the time, current President Donald J. Trump called for him and his friends to be executed. Known as the "Central Park Five," the men were exonerated after a serial rapist confessed to the crime and DNA evidence proved their innocence in 2002. Richardson – arrested at 14 years old – spent seven years in prison.
As a kid, Richardson dreamed of going to Syracuse University, he told Oprah Winfrey in an interview, after the release of "When They See Us," a Netflix series about the Central Park Five.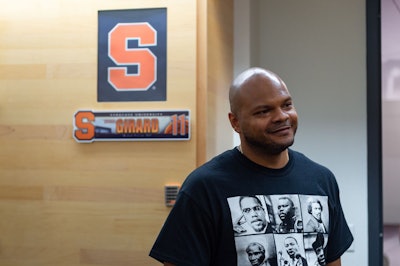 A middle school trumpet player and a college basketball fan, he wanted to play for the school's marching band. To him, Syracuse felt like the perfect distance from where he grew up in Harlem, not far from his family but still an escape from New York City.
Two weeks ago, on Oct. 16, Syracuse University awarded Richardson with an honorary bachelor of fine arts at a virtual event called "Coming Back Together," a reunion of Black and Latinx alumni.
At the ceremony, Richardson "felt like that teenager again," he said. "It was emotional. Tears began to stream down my face, because wow, this finally happened thirty years later."
His is the first honorary undergraduate degree the university has ever given, a special request from Richardson. Instead of a customary honorary doctorate, he wanted the degree to reflect the college years he missed.
Richardson came out of prison at age 23 – five years before the group was exonerated – saddled with the stigma of a sex offense he didn't commit.
Back then, "I felt like a child again," he said. "I had to readapt to a society. It was hard to adjust, because I missed some crucial years of my life, and you can never get those years back, but I was trying to play catch up."
Now an advocate for criminal justice reform with the Innocence Project, Richardson didn't expect to become a Syracuse University alumni. But after his interview on "The Oprah Winfrey Show," a petition by students and alumni garnered over 6,000 signatures calling on the school to give him a degree.
"It's a wonderful story of resilience," said Dr. Keith A. Alford, Syracuse University's chief diversity and inclusion officer. "Kevin Richardson experienced an injustice that was very hard – some might even say horrific. And despite the fact that he endured what he endured, he has been so resilient, so forthcoming and such a champion for social justice."
He sees Richardson as a model for Syracuse University students. Richardson exemplifies "a belief in the dignity and worth of humankind" at a national moment that's calling attention to inequities, he added, "a health pandemic and many would say a racial pandemic, as well."
Last September, Rachel Vassel, assistant vice president of multicultural advancement, invited Richardson to campus for the first time, where he got to experience what it would have been like to be a student. He went to a music class, explored campus and was awarded a trumpet and a customized Syracuse University jersey.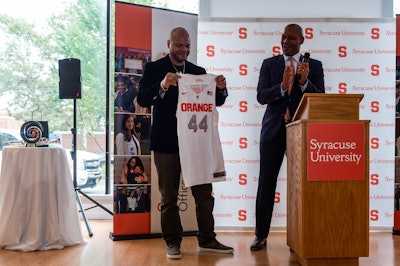 Richardson also found out that the university planned to create a scholarship in his name, which was "the most rewarding of all."
"That's something very dear to me, to see people of color, people who look like me, get the chance to achieve their education," he said. "I didn't get to do that. So, now I have an opportunity and a platform to help out others."
Richardson and the university want to raise a total of $100,000 to endow the scholarship, which will be a part of the Our Time Has Come scholarship program for Black and Latinx students. Annually at least two students with unmet financial needs – and a GPA of 2.5 or above – will receive funding through the Kevin Richardson scholarship. Like other Our Time Has Come scholars, they'll participate in monthly leadership development sessions and connect with diverse alumni mentors.
"It's not just the scholarship money, but it's also opportunities to grow," said Vassel. "For students of color on a predominantly White campus, it's more the community and the support from those who came before them and faculty and staff on campus that really encourages them throughout their four years."
One day, Richardson hopes his two daughters, ages 12 and three, can graduate from Syracuse University too. He also hopes they'll grow up to see a better future in terms of criminal justice reform.
"I think we're just scratching the surface," he said. "I really think there's so much more we have to do. Maybe years down the line, I'll look back, and my kids will see everything I achieved. But we're in the midst of trying to change the world."
Sara Weissman can be reached at sweissman@diverseeducation.com.