With the help of a $1.9 million grant from the U.S. Department of Education, Utah Valley University will be launching a three-year certificate program for Utah residents with intellectual disabilities in summer 2021.
As a part of the program, called Wolverines Elevated, students will earn a certificate in Integrated College and Community Studies, which can be paired with other certificates available at the college.
The program will be based out of the university's Melissa Nellesen Center for Autism, starting with a cohort of five to seven students for the first two years, with plans to welcome 10 to 12 students per year in the future. It's funded through a Transition and Postsecondary Programs for Students with Intellectual Disabilities (TPSID) grant, a decade-old federal program.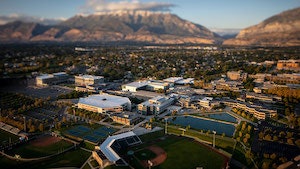 "One of the things we know right now is more than half of students with intellectual disabilities are unemployed or underemployed as adults," said Dr. Jane Carlson, director of the Melisa Nellesen Center for Autism. "What we're really hoping to do is move the needle on the percentage of students who are out there living and working independently in the community in competitive employment. And we firmly believe these students are very capable of achieving that."
The emphasis of the program is on career development. In the first year, students will be shadowing staff on campus doing different kinds of jobs to explore potential career goals. Their second year will include an on-campus internship, and in their final year, they'll intern off campus through the program's business partnerships, so students will graduate with a padded resume. Simultaneously, students take both specialized courses and classes alongside the rest of the student body, with the support of a vocational coordinator and a group of peer mentors.
Students will also participate in "the typical things that college students do when they're being college students," Carlson said, like campus clubs and sporting events.
She thinks Utah Valley University is an ideal place for a program like this. A four-year college since 1993, the university started as a vocational school, so it still has a "rich array" of certificate programs that students with intellectual disabilities can combine with their credential.
Wolverines Elevated is based on a preexisting program at Utah State University called Aggies Elevated, a federally designated Comprehensive Transition Program in which students with intellectual disabilities earn an Integrated College and Community Studies certificate in two years. It's shown success since it started in fall 2014. For example, as of this November, 21 of the program's 24 recent graduates were employed, despite the economic downturn caused by COVID-19. That's 87.5% of the cohort. For graduates of federally funded Transition & Post-secondary Programs for Students with Intellectual Disabilities (TPSID), the average employment rate is 61%.
The program works with students on the soft skills they'll need in the workforce. For example, Aggies Elevated teaches them to write resumes and cover letters and runs mock job interviews, specifically with campus community members that students don't know so they can practice with strangers.
To prepare students, "we try to make it as real world as we can," said Sue Reeves, the program director for Aggies Elevated. When they graduate, "I hope that they will do whatever they want to do, and not get stuck in the things that people typically see people with intellectual disabilities doing."
Both programs will ultimately be a part of a broader effort called the Utah Higher Education Inclusion Alliance, which aims to offer a variety of credentialing options in the state to students with intellectual disabilities. This will include a future program at the Utah State University Eastern campus in Price, Utah, a rural area. Aggies Elevated will provide technical assistance to help get the newer programs off the ground. As a former TPSID program, it can help with the "growing pains," Reeves said.
With these three programs, the Utah Higher Education Inclusion Alliance will ultimately have developed "three distinct variations" of models for serving students with intellectual disabilities: one at a four-year university, one at a commuter college with vocational school roots and one on a rural campus. Anyone can use those models to start similar efforts at their own schools, in the state of Utah or elsewhere, Carlson said.
Too often, students with intellectual disabilities are left out of higher education's diversity and inclusion conversations.
For one thing, when people think about disability it's usually "the disabilities you can see," Reeves said. Meanwhile, "often in higher education, the admissions process is exclusionary. You have to meet certain criteria for admission, and our folks obviously can't meet that, so they're not really considered." But "people with intellectual disabilities are capable with the right supports."
These programs are built to offer the support system they need to thrive.
"I think we suffer from a low expectation bias when it comes to thinking about what's possible for people with intellectual disability," Carlson said. "And what we know is high expectations and inclusive environments lead to success. I'm really happy to start the conversation in our local community about what is possible in postsecondary education for students with an intellectual disability."
Sara Weissman can be reached at sweissman@diverseeducation.com.