In her 23 years as president of Montclair State University, Dr. Susan A. Cole has made a huge impact on the institution's diversity, equity and inclusion.
Over the past two decades, enrollment at Montclair State University has more than doubled and its position within New Jersey public institutions has grown in prestige. Leading the university through these past 23 years has been Cole, who last fall announced she would step down this summer after her successor takes office.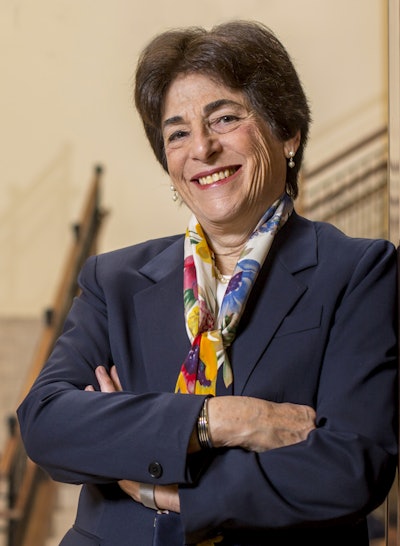 When Cole assumed the presidency in 1998, she was the institution's first female president. White students made up 64% of the student body and Latinx students comprised just 15%. Today, Latinx students are 29% of the student population and Montclair State University is designated a Hispanic Serving Institution. The percentage of African American students has also risen from 10% to 13%.
New Jersey has a large Latinx population. Cole's goal from day one was that the population of the university should look like the population of the society it serves.
"This institution fundamentally believes — this is the culture of the institution — that you cannot have a just and prosperous society if it does not provide the opportunity for full participation and achievement to all its people," Cole says. "Participation and achievement require education."
Dr. Harvey Kesselman, president of Stockton University (another public institution in New Jersey), praises Cole as a leader, referring to her as a "pillar of strength on social justice issues." Having collaborated with Cole on various projects to advance higher education in New Jersey, he says she has expanded opportunities for first-generation and low-income students, and her efforts have impacted public higher education in New Jersey and beyond.
"We all respect her opinion on issues," says Kesselman, who serves as chair of the New Jersey Presidents' Council, of which Cole is a past chair. "She's very pragmatic and very committed to those students who have not had access to higher education in the past."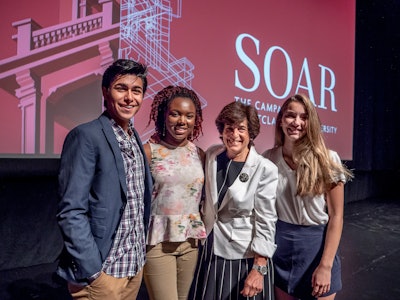 Under Cole's leadership, three million square feet of academic and performance space were constructed. The Feliciano School of Business opened a new state-of-the-art facility, developed new programs, added new faculty and earned national attention. There is a new Center for Environmental and Life Sciences and a new Center for Computing and Information Science. A large public/private dining complex was built, and residential capacity was increased from 2,300 to 5,200.
"As you work, every day that you accomplish something … reveals the next direction, the next accomplishment to seek because the future and the needs of the future reveal themselves as you walk forward," says Cole. "It was a process of achieving something, building something and doing that revealed the next step."
Four new schools and colleges have been added: the School of Communication and Media, the John J. Cali School of Music, the School of Nursing and University College.
Montclair State hadn't previously invested much in health programs, but the director of admissions told Cole that the most asked-for program that the university didn't have was nursing. After investigation and research, it became clear nursing was being re-envisioned and there were great career opportunities.
University College had a different origin.
"It was clear as we grew enrollment year after year, we got to the point where we literally had about 2,000 students who were not enrolled in any college," Cole says. "I said, 'We need to provide a center for them to relate to as their college … that will be focused on helping them explore what it is they want to study and where their talents lie.' That was the concept behind University College."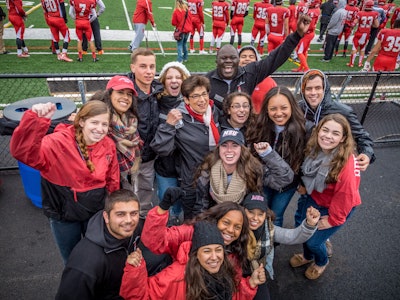 This past year, the pandemic brought challenges unlike any Cole had previously encountered. "I've worked hard all my life, but I have not worked as hard as I worked the last year and a half," Cole says.
Once the new president of Montclair State has arrived, Cole will engage in some self-care. "Time to be Susan," she says, after a lifetime of working while also raising a family. A year from now, she will formulate a plan of action.
In terms of words of advice to new presidents, Cole says the job of president is fundamentally three things.
"One is to be able to see the long-term vision and to articulate it persuasively and well across the campus and make sure that it is understood and embraced by the whole campus," she says. "Second, this is a complicated world in which to run anything—universities, especially large public ones, are very complicated organisms. You cannot be a successful president of one of these institutions if you are not competent in the job. … You can't forget about the details.
"The third and last thing is always remember that a president can do nothing without all of the people who are in the institution," she concludes. "Our job is to release the potential, the intelligence, the abilities of all of the people who work in the institution."
This article originally appeared in the June 24, 2021 edition of Diverse. Read it here.