Southern Methodist University (SMU) graduate student Collin Yarbrough has used Dallas' Central Expressway all his life. But it wasn't until an assignment for his engineering class that he began to see the road in a new light.
The assignment, which was for a course on context and impact of design, involved writing a paper on a design element in Dallas, with the expressway as one option.
"It's a highway I've used my entire life," Yarbrough said, noting that it runs right past SMU. "So I thought it might be interesting, thinking maybe there's something cool about the way it looks and the way it's designed."
But as he began researching, he found the road had a much darker history than he could have anticipated.
It began when Yarbrough stumbled upon a New York Times article that explained decisions made during the 1990s expansion of the highway. In order to make space for the expansion, the construction project dug up 1,127 bodies of people who were formerly enslaved and buried in the Freedman's Cemetery.
"There's just something so fundamentally unjust about the fact that we would prioritize the expansion of the highway over the eternal rest of 1,100 Black bodies," said Yarbrough. "And I just couldn't let that go."
As he continued researching, he realized the Central Expressway wasn't an isolated incident. He discovered other examples "where communities of color were either cut through the middle of, paved away, no longer existed or were walled off from other parts of the city and segregated further by construction."
As the forgotten histories began piling up, his class assignment instead transformed into an ambitious book project, resulting in Yarbrough's newly published book, Paved A Way: Infrastructure, Policy and Racism in an American City (New Degree Press, 2021).
The book shares how five Dallas neighborhoods — the communities of North Dallas, Deep Ellum, Little Mexico, Tenth Street and Fair Park — have been shaped by racism and economic oppression resulting from city infrastructure.
"We don't usually think too much about railway stations, highways, parks, airports; we just kind of think, 'Oh, these have always been here.'" said Yarbrough. "But in actuality, the placement of those pieces of infrastructure are usually built on a racialized geography. So they're built on the remnants of redlining and other discriminatory practices that existed in our history, whether that's Dallas or some other city."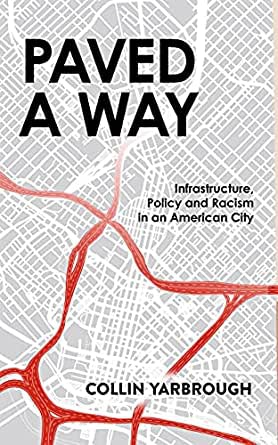 In effect, some communities, namely low-income and minority communities, are left to carry the burden of new infrastructure without receiving the benefits of that new infrastructure. Often, they are forced out by redevelopment and higher property taxes, losing access to nearby jobs, said Yarbrough.
"It has really long standing detrimental impacts," he added.
That Yarbrough would become an advocate for equitable infrastructure is perhaps no surprise considering his past. After graduating from Clarkson University in 2011 with a bachelor's in engineering and management, he worked as a pipeline engineer and compliance manager for Atmos Energy, a natural gas distribution company.
After working as an engineer for nearly eight years, he decided to change course. In 2019, he applied to seminary school at SMU's Perkins School of Theology, hoping to take some ministry and business classes that could help with his mother's nonprofit bakery, which he was managing at the time. But it didn't take long before he was tempted to take some classes in SMU's engineering school too.
"Taking those classes blended the ideas of justice I was learning in my seminary education with my hardwiring as an engineer," he said. "Everything just kind of started to coalesce and click."
Graduating with a master's in sustainability and development, he is now a 2021 Clinton Global Initiative Fellow. And, this fall, he'll begin his Ph.D. in civil engineering at SMU, specializing in transportation, economic geography and urban economics. Down the line, he would like to help cities create equitable infrastructure.
For now, he hopes his book will help others recognize structural racism — both figuratively and literally built into a city's structures — and that it ultimately inspires others to push back against discriminatory building practices in other cities across the nation. Or, as he states in the introduction of his book: "Dallas is its own city, and Dallas is every city."
"My hope is that people will begin to recognize what those patterns look like and stand up and say something and get engaged with neighborhoods that are fighting those discriminatory practices," he said.
In that way, his book's title not only conveys just how many histories that were hidden and "paved away," it also implies a sense of hope and call to action that people and cities can "pave a way" forward.
Jessica Ruf can be reached at [email protected]