The University of Akron (UA) has brought nap pods to campus, allowing students to get some light shuteye throughout the day.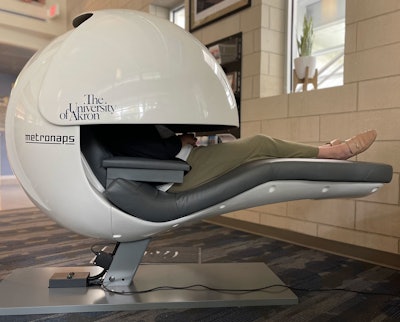 The school put four nap pods at three locations across campus for 20-minute refresher naps to boost mood, creativity, and focus.
Each pod has a privacy visor, a built-in timer, and specifically composed sleep music. The visor rotates to provide privacy and darkness, the lights can be adjusted, and the music can be customized via Bluetooth. Each site will have motivational quotes and flyers for campus and community resources.
They are available during regular operating hours on a first-come, first-served basis. Reservations may be required during peak demand.
"There are several research studies that highlight the correlation of mental health and sleep, so part of the intent to offer nap pods was to provide a unique mental health resource to our students," said Ali Doehring, director of UA's ZipAssist, who is leading the project. "We hope that students using these will benefit from an increased concentration in the classroom, a reduction of stress and a positive enhancement in their overall emotions."