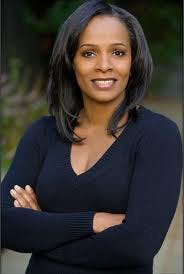 It was engrained in Vanessa Bell Calloway from the beginning: If you have, you give. A mother who stayed active in her community had the eyes of a young Calloway on her at all times, listening, taking in her philanthropy. It was all about her community, and as Calloway has matured into a successful actress, that sense has never left her.
"I was always brought up in a household that it didn't matter how much you had, you had to donate your time, your services," Calloway says.
It was her work in the community that brought Calloway into an alliance with the United Negro College Fund. UNCF continued to water the seed Calloway's mother planted in her as a child and gave her the sense of urgency needed to make a change in someone else's life. That change came in the form of Calloway's foster daughter, Jhamasa Noel Lewis-Adams.
"She was emancipated at 18," Calloway says. "Her life had taken a turn and she had nowhere to go. She had always been a friend of our daughter's and we just took her in. We didn't have any time to think about it. It just happened. But I realized that was God's gift to me and my husband to finish raising her."
And it was at an inter-alumni breakfast in 2009 where Dr. Hilliard L. Lackey, an assistant professor at Jackson State University, learned of Lewis-Adams' story. Calloway just wanted to get her to college. Lackey was there to help.
"My foster baby met Dr. Lackey, and thus was given the opportunity to go away to college just like every other freshman that was going into college that year," Calloway says. "She needed to get out of L.A.; I didn't know how I was going to get her out. I just knew she needed to get out. And in doing that, she's blossomed into such a beautiful young woman because she's had the experience that my own birth daughters have had."
But there was still more to do, more ways to help. Calloway looked in her new daughter's eyes and saw other emancipated youth who just need that extra push to realize dreams that seemed out of reach. Calloway wanted to prevent as many young people as she could from getting into school and reaching that heartbreaking moment when the financial demands — beyond tuition — begin to pile up, and they are forced to return home.
So Calloway started the Vanessa Bell Calloway Fund at Jackson State University with Lackey to help emancipated youth with the demands scholarships and loans seem to forget exist.
"They can't call home and ask for money," Calloway says. "There's nobody to send them $50 or 100 bucks. Sometimes we have all these organizations that will give them the money to go to school, and they have the books; they have the housing; they have their tuition paid for. But how do they buy toothpaste? How do girls buy sanitary items? That's a huge thing."
The more than $40,000 the fund has raised since its creation has aided emancipated youth with the little things, things that would arrive in care packages from the homes of their peers.
"You might need some socks or a new pair of jeans," Calloway says, "so you should have somewhere to go and say, 'Can I have a couple hundred bucks?' or 'These are the items that I need.' Get you some new socks, some jeans, some toothpaste and deodorant."
"Education just betters you," Calloway says. "Gives you room to grow. Even if you go to school and get a degree and don't necessarily practice that in your life, at least the information that you've acquired through the process is important."
Calloway continues to work with UNCF and the Jackson State fund because she understands the importance of giving back. UNCF means something to her. Education means something to her. Community means something to her.
And that will never change.