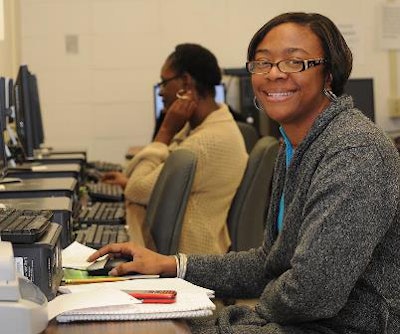 Early in her presidency at Contra Costa College in San Pablo, Calif., Dr. Denise Noldon was surprised by and grateful for an anonymous donor's gift of more than $1 million to the school.
Now, after a little more than a year on the job, Noldon faces many challenges, several of which are driven by financial issues plaguing higher education, and she is not alone. After years of deep cuts in state funding, the recession and its slow recovery, only to be followed by sequestration and a government shutdown, community college leaders across the country are beginning to use unprecedented measures to help make ends meet.
Fundraising — a long-standing activity at four-year institutions — is becoming a necessity, rather than an option, for community colleges struggling to continue the mission. Schools are also turning to foundations, relying on scholarships and partnering more with business and industry for support and opportunities to enhance student success and graduation rates.
College presidents and administrators are being asked more often to secure donations like the $1 million-plus that Contra Costa College received.
"That's one of the things we have to do more of," Noldon says. "We're trying every way that we know to be better connected out in the community to strengthen our relationships with school districts to ensure that students are aware of opportunities that the college offers."
The administration, she said, is "engaged in strategic-planning process with our foundation so that we can try to broaden our scope beyond just raising money for scholarships."
Pulling together
The financial crises have also forced institutions to re-examine how efficiently they are using resources. Some experts are calling on state officials to reinvest in community colleges. The challenges are creating opportunities, as well as new ways of doing business. Educators and experts are optimistic about the future of community colleges.
"All of this reduction in funding is causing some coalescing," says Dr. Stephanie Hawley at Austin Community College in Texas. "I've seen some healthy collaboration. Community colleges are coming together in greater ways to try to solve problems and also to get behind policy. Our presidents are really getting together and putting together strong agendas to address the legislature."
Dr. John Rainone, a past president of the Council for Resource Development in Washington, D.C., an organization of community college development officers, estimates 50 percent of community college presidents probably have some knowledge of fundraising. "Fundraising at community colleges is a mandatory exercise these days," says Rainone, president at Dabney S. Lancaster Community College in Clifton Forge, Va. "It is becoming more and more of a requirement that boards of trustees are looking for."
In Arizona, responsibility for fundraising, once solely the chancellor's duty, is being spread among three of 10 presidents within the Maricopa Community College system. Each president is now charged with devoting 10 percent of his or her time toward raising money. That fundraising time will increase to 25 percent in two or three years, says Debra Thompson, vice chancellor, business services, Maricopa Community College. The Maricopa system, which also relies on property taxes and tuition, lost more than $60 million in state aid.
"Really, fundraising becomes a fourth revenue stream for us," she says.
State-wide, community colleges in Arizona lost more than $100 million between fiscal years 2008–09 and 2011–12, Thompson says. In addition to ramping up fundraising efforts, Maricopa Community College also imposed $35 million in operational cuts and $11 million in cuts in capital spending, on an annual basis. Administrators also raised tuition, and property tax rates were increased.
Arizona, California and Louisiana are among the states hit hardest by the recession, and community colleges in each state experienced deep cuts in state funding over the past few years, according to research by the Center on Budget and Policy Priorities in Washington, D.C., a nonpartisan research and policy institute that focuses on fiscal policies and programs that affect low- and moderate-income Americans. In addition, two-year schools will lose additional funding as a result of sequestration, automatic federal spending cuts that went into effect March 1.
"The cuts are coming at a time when colleges and universities are already hurting for funds in many states," says Dr. Michael Leachman, the center's director. "The deep, deep cuts take us in the opposite direction."
In response, some states reduced spending and increased taxes or opted for a more balanced approach. However, some states cut taxes, Leachman says. Fundraising "could certainly make a dent, but it is hard to imagine that is going to make a really sizeable dent," he says. "What we're really talking about is a need for states to reverse the trend over the last few years and reinvest in their higher education systems."
Davis Jenkins, senior research associate at the Community College Research Center at Columbia University, says, "Community colleges have cut costs, but in areas of instruction — core business — in ways that are not good for education."
That, along with what he described as state policymakers' misperceptions of community colleges, undermines the value of community colleges. Some schools increased class size and the use of adjunct instructors while cutting services and courses. None of those actions, however, helped to enhance student performance or improve graduation rates.
"It's understandable that in a massive recession, states would cut," Jenkins says. "They're going into it with the wrong assumption — that colleges are wasteful, and they are not holding colleges accountable in a way that would help them improve their outcomes. The focus shouldn't be on cost per student. It should be on cost per completion and quality."
Different responses, different outcomes
In states such as Maryland and New Jersey, the funding cuts were not as significant, but school leaders faced challenges to serve students and fulfill the mission of offering low-cost quality education. Schools nation-wide are trying to improve remedial studies, course completion and student performance and retention.
"The biggest challenge is the completion rates," says Dr. Peggy F. Bradford, vice president for academic affairs and chief academic officer at Baltimore City Community College in Maryland. "The completion rates are low all across the country for community colleges."
Shelley Payne, a student representative on the Board of Trustees at Baltimore City Community College, will graduate in May. She plans to enroll at University of Baltimore. Phi Theta Kappa, an honor society for community college students, gave Payne a scholarship. Without it, Payne, 48, who cared for her late mother and her own household, says she is "not sure if I would have been able to go."
"The scholarship was definitely needed, and it propelled me into a world that is just wide open," she says. "I would not have been able to get this far without it."
In New Jersey, community colleges will benefit from a $1.3 billion bond voters approved for construction and renovation.
"This is not to say that overall, as a sector, American public higher education is not in trouble. We are," says Dr. Jianping Wang, vice president of academic affairs at Ocean County College in New Jersey. "No one can survive this perfect storm alone, whether you're a higher education institution, or you are businesses that hire or you're a community entity or agency that wants volunteer service from our students. If we work together, we can do it."
Responses to mounting economic pressures and the results vary. In California, voters overwhelmingly voted for Proposition 30, which raises the state sales tax and taxes the wealthy. Part of the $6 billion it generates each year will support community colleges. In Louisiana, administrators at Delgado Community College capitalized on their "entrepreneurial spirit," enhancing relationships and partnering more with business and industry.
"It's very uneven across the country," says Dr. Richard Duran, president of the National Community College Hispanic Council. "It depends on whom you're talking to. It's a very different story."
Even in California, where enrollment dropped 17 percent, or about 485,000 fewer students, schools are experiencing different outcomes. Duran, president at Oxnard College, says the school anticipates a 7 percent increase in enrollment. The school's foundation has also committed to a five-year plan, awarding $250,000 each year to help support students.
"At a lot of community colleges, that has not been the case," Duran says. "That has not been the first priority. Now, that's changing, and we're taking fundraising much more seriously."
Enrollment, which typically grows during a recession, is beginning to decline, further complicating the financial health at schools that are more dependent on tuition increases.
"Colleges have become that much more dependent on tuition as they absorb these budget cuts," says David Baime, senior vice president, Government Relations and Policy Analysis at American Association of Community Colleges. "To that extent, enrollment drops do create issues for them, as they would for private colleges that are thought to be more tuition dependent."
Students experiencing economic hardship because of the recession with fewer job openings available and increasing tuitions at four-year colleges turned to community colleges.
A safety net
Students at Delgado Community College in Louisiana have a safety net through Single Stop USA, a nonprofit organization that offers resources, including help filing tax returns that yielded unexpected refunds and legal services such as a notary on campus for students, many of whom are adults who work full time. More than 400 students filed income taxes, receiving an average refund of $3,400.
"That is additional money in the pocket for these students," says Dr. Arnel W. Cosey, vice chancellor for student affairs and executive dean, City Park Campus of Delgado. "If they can walk to the offices on campus, they don't have to miss classes."
Daneia Brown, 26, returned to community college last summer. Separated from her husband, the mother of two young girls found managing parenting duties and earning an education in nursing overwhelming.
"My teachers were saying there is no way in the world a two-year-old could sit in class with me," Brown says. "They helped me with childcare. I wasn't going to be able to go to school if they didn't help."
She also received tutoring from the federal TRIO program, providing outreach and student services programs for individuals from disadvantaged backgrounds. Other students had tutoring hours cut, and some employees of the college were laid off. Part-time enrollment spiked, because fewer students could afford to go full time.
With layoffs and state cuts, Cosey made the best of the available resources. "The obvious thing is I've got fewer people to do the same for students," she says.
What works best for Delgado is its ability to respond quickly to business and industry needs. For example, just three weeks after an employer indicated a need for thousands of electrical welders, the school planned and launched a technical skills expo that drew hundreds of high school students.
"Community colleges tend to have really good collaboration with business and industry," Cosey says. "That comes from what we do, in that, we prepare people to go immediately into the workforce. We tend to have what we call that 'entrepreneurial spirit.' We will find a way to make it work."