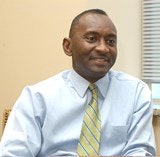 Dr. Johnny Moore has resigned as president of Philander Smith College after less than two years on the job, the historically Black school said in a news release Thursday. Dr. Lloyd E. Hervey will serve as interim president as a search begins for Moore's successor at the school that has more than 500 students.
Moore, who the college says is leaving "to pursue other personal and professional opportunities, became the Little Rock, Ark., school's 13th president in July 2012. He was a 1989 graduate of the private, four-year undergraduate liberal arts college affiliated with the United Methodist Church.
"While he is no longer president of Philander, Dr. Johnny Moore remains a valued alumnus and much-honored former athlete, with strong ties to our college," said the college's Board of Trustees Chairman Artee Williams.