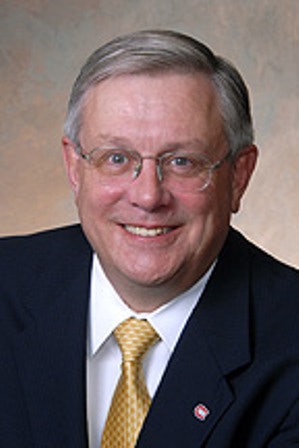 SAN DIEGO, Calif.—The American Council on Education kicked off its 96th annual meeting yesterday with a series of panel discussions focused on best practices for collecting institutional data and ways to improve retention and graduation rates.
One particular session, titled "Internationalization—Presidents Panel and Discussion of Partnerships and Global Education," drew a crowd of academicians interested in strengthening international programs on their respective campuses.
Dr. Earl H. Potter III, president of St. Cloud State University in Minnesota, said that, when it comes to sending students abroad and recruiting international students to study in the U.S., college presidents have to be aggressive in leading the charge.
"Any president needs to remember that the world did not begin on their inauguration day," said Potter, who has been at SCSU since 2007. "The president needs to be at the forefront of this work."
During his six-year tenure at Minnesota's largest public university, Potter said that strategic partnerships have been formed with several universities abroad, including the Nelson Mandela Metropolitan University in South Africa, where many SCSU nursing students currently complete their practicum. Faculty and staff exchanges between the two universities have also become frequent.
"It's fine to bring foreign students to our campuses, but I think it's important to build programs around the world," said Dr. Pradeep K. Khosla, chancellor of the University of California, San Diego. He added that U.S. colleges are currently in a strong position to help promote liberal arts across the globe.
Still, national efforts to institutionalize international programs at U.S. colleges and universities have often been "very episodic" and have largely depended on the efforts of individual faculty members, said Dr. George. R. Blumenthal, chancellor of the University of California, Santa Cruz.
At UC Santa Cruz, Blumenthal has focused his efforts on establishing new relationships with universities in India that have a keen interest in the university, partly because of its close proximity to Silicon Valley, which boasts a sizable Indian population.
"I've met many students who are literally lined up waiting to figure out how to study in the U.S." said Blumenthal, who pointed out that the opportunity to host international students at USC is a way to introduce them to U.S. values and social justice issues.
With nearly a half of all college students in the U.S currently enrolled at a two-year college, community colleges have seen an "extraordinary infusion" of immigrants over the past several decades, said Dr. Gail O. Mellow, president of LaGuardia Community College in New York City.
Mellow said that institutions with sizable immigrant students must find ways to integrate global pedagogical strategies into the curriculum, particularly for low-income and first-generation students who aren't financially equipped to travel abroad.
"This should not just be handed over to student affairs," said Mellow, adding that understanding often occurs when students are forced to interact with each other inside the classroom setting. "We really want to pull students in toward each other."
Thanks to the Henry Luce Foundation, LaGuardia—which has 55,000 students—was recently awarded $250,000 to establish the Luce World Heritage Language Scholar Program, which offers students bilingual in Spanish, Mandarin, Chinese and Japanese the opportunity to improve their heritage language proficiency and cultural knowledge at an advanced and in-depth level as well as prepare them for internships in an international company or a nonprofit organization.
Potter said that, while it has become fashionable for colleges and universities to push international programs, every institution should make sure that its efforts are aligned to its mission, learning objectives and student outcomes.
"Too often people didn't start with the question, 'Why are we doing this in the first place?'"
Jamal Watson can be reached at jwatson1@diverseeducation.com. You can follow him on twitter @jamalericwatson