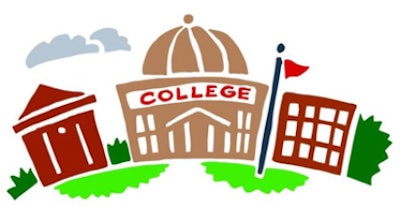 When President Barack Obama announced an ambitious new plan to make community college free this past Friday during a speech at Pellissippi State Community College in Knoxville, Tennessee, his remarks drew an enthusiastic applause.
And it drew praise in certain sectors of higher education because of its emphasis on boosting student access and success.
"The president's proposal certainly fits into that category," said Dr. Walter G. Bumphus, president and CEO of the American Association of Community Colleges. "This is an exciting day for the nation's community colleges."
But among policymakers, analysts and college access advocates, the plan—known formally as America's College Promise—drew skepticism about its workability and practicality. It also drew questions about the extent to which the plan would truly benefit the students who need it the most and why the president doesn't focus more on finding ways to fund the Pell Grant program that helps low-income students pay for college.
One of the biggest obstacles to the America's College Promise plan is for it to actually win approval in the Republican-controlled Congress.
"You want to tell students there's an affordable option open to them, and two years in college (for free) sounds great," said Rachel Fishman, an education policy analyst at the New America Foundation, a nonpartisan public policy institute based in Washington, D.C.
"But the odds of it getting through this Congress are very slim," Fishman said.
Indeed, U.S. Senator Lamar Alexander (R-Tenn.), chairman of the Senate Education Committee, criticized the idea of the federal government taking the lead on the initiative, which is inspired by the Tennessee Promise, a "last-dollar" scholarship program that is financed by the state lottery and provides two years of tuition-free education at a community college or technical school in Tennessee.
"The right way to expand Tennessee Promise nationally is for other states to do for themselves what Tennessee has done," Alexander said in a statement, adding that the president should find a way to finance the millions of new Pell Grants that would be awarded if other states follow Tennessee's example.
"The reason Tennessee can afford Tennessee Promise is that 56 percent of our state's community college students already have a federal Pell Grant, which averages $3,300, to help pay for the average $3,800-per-year tuition," Alexander's statement said. "The state pays the difference — $500 on average."
U.S. Rep. John Kline (R-Minn.), chairman of the House Education and Workforce Committee, said the president "forgot to mention the low-income families who rely on a Pell Grant program that is on the path to bankruptcy."
"Unless the president has a responsible plan to meet our existing commitments, he shouldn't be making new promises the American people can't afford," Kline said.
According to a fact sheet released by the White House, the America's College Promise proposal would "create a new partnership with states to help them waive tuition in high-quality programs for responsible students."
But the plan, which did not mention an overall cost, comes with certain conditions that students and participating colleges and states must meet.
For instance, in order to go to community college tuition-free under the plan, students must attend school at least half-time, maintain a 2.5 GPA, and "make steady progress toward completing their program."
The GPA provision drew criticism since the GPA requirement for most federal financial aid is a 2.0.
"So we're curious for how that's going to work out, because the goal of need-based aid is to level the playing field," said Carrie Warick, director of Partnerships and Policy at the National College Access Network, a Washington, D.C.-based group that advocates for organizations that focus on college access issues for low-income students.
"This creates an additional step beyond that (2.0 GPA requirement) by requiring students to meet higher academic standards," Warick said.
Obama repeatedly made reference to the program being for "responsible" students, but Fishman, of the New America Foundation, said she wanted to "push back" on the idea that students who don't go to school half-time are "not responsible."
"You can still be a responsible student and only taking one class a semester or being below half-time because you have kids and a full-time job," Fishman said. "I wouldn't say a student who is balancing those things and having to take one class as irresponsible per se.
"I would want to see a program that is more flexible and expansive to make sure it's reaching non-traditional students."
On the other hand, the half-time requirement could be viewed as a concession to meet students with family or work responsibilities halfway, particularly in light of how organizations such as Complete College America have warned about the pitfalls of federal aid policies that don't require students to attend school full-time.
"As months, semesters, and years go by, it becomes more likely that events and demands outside the classroom will complicate college success," Complete College America says in a document titled "Essential Steps for States: Reduce Time and Accelerate Success."
"Most often, the longer it takes students to complete their degrees, the more those degrees cost, and the delays can add up to millions of wasted dollars for students, institutions, and the state."
On the institutional side, the America's College Promise requires community colleges to offer programs that either transfer fully to local public four-year colleges and universities—the idea being that they can essentially get the first half of their bachelor's degree for free—or offer occupational training programs with "high graduation rates and that lead to degrees and certificates that are in demand among employers."
"Other types of programs will not be eligible for free tuition," the White House fact sheet states, although it does not define exactly what constitutes a "high" graduation rate or which degrees and certificates are "in demand."
Clarifying the graduation rate requirement is crucial given the fact that the total completion rate for two-year college starters, irrespective of whether they completed at a two-year or four-year institution, stands at 39.1 percent—significantly lower than the overall college completion rate of 55 percent, according to the National Student Clearinghouse Research Center's "Completing College: A National View of Student Attainment Rates – Fall 2008 Cohort."
Obama's plan also calls for community colleges to adopt "promising and evidence-based institutional reforms to improve student outcomes."
Warick, of NCAN, said it will be critical to find out if the plan covers developmental courses since many community college students start out in the non-credit-bearing courses.
As for states, the Obama plan says federal funding will cover three-fourths of the "average cost" of community college. Some observers question whether that means a state average or national average since the cost of community college varies from state to state.
The average published tuition and fees at public two-year colleges is currently $3,347, according to the College Board report titled "Trends in College Pricing 2014."
"States that choose to participate will be expected to contribute the remaining funds necessary to eliminate community college tuition for eligible students," the White House fact sheet states. "States that already invest more and charge students less can make smaller contributions, though all participating states will be required to put up some matching funds."
Debbie Cochrane, research director at Oakland, Calif.-based The Institute for College Access and Success, or TICAS, said free tuition isn't all that it's made out to be.
"Making tuition free for all students regardless of their income is a missed opportunity to focus resources on the students who need aid the most," Cochrane said in a statement titled "Why 'Free Community College' is a Wolf in Sheep's Clothing."
"Consider California community colleges, with the lowest tuition in the nation and waivers for low-income students," Cochrane wrote. "The result? Federal student aid application rates, even among low-income students, have been notoriously low, and part-time enrollment rates sky-high. 'Free tuition' is not a panacea."
Cochrane said there would be problems even if other states follow the example of the Tennessee Promise.
As a "last-dollar" scholarship program, Cochrane wrote, the Tennessee Promise "only helps students who don't get enough from other grants to cover tuition."
"This is a critically important point because, given the relatively low income of community college students and the relatively low tuition charges at community colleges, it means that the students with the greatest need for financial aid will rarely benefit," Cochrane wrote. "Conversely, those with the least need are the most certain to benefit."