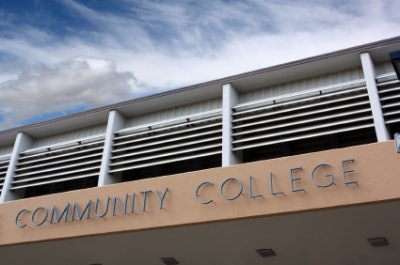 WASHINGTON — Could public postsecondary education one day be tuition free in the United States, just like the public K-12 system? That may be President Obama's vision, but there are some roadblocks to take care of first, some said at the Community College National Legislative Summit on Tuesday.
Obama's proposal for free community college has caught the nation's attention. A two-minute video featuring Obama explaining the proposal is the most viewed video ever produced by the Obama White House.
Despite national interest in the plan, many question the plausibility of it being successfully implemented. At the legislative summit, community college leaders expressed cautious enthusiasm for the proposal.
"Anything that makes community colleges more accessible financially for students is a good thing," said David Baime, American Association of Community Colleges (AACC) senior vice president for government relations and policy, during a public discussion session on community college priorities for 2015 and beyond.
Yet Baime said that it was not yet clear how the proposal might be financed.
Jim Hermes, AACC associate vice president of government relations, held similar views. "In concept this is something that we've been very supportive of, but again, a number of details have yet to emerge and need to be worked out," he said.
Hermes pointed out that the budget for FY 2016 did not appear to allocate enough money to get the proposal off the ground. America's College Promise would cost the federal government $60 billion over ten years. States would be required to contribute 25 percent of costs.
"If you look at the budget closely, you'll notice that they project the cost at $1.4 billion in the first year. So obviously, they themselves are not anticipating a situation where all the states would join in on year one," Hermes said.
Hermes also put the numbers in perspective. The proposal would cost the federal budget an additional $6 billion a year on average. By point of comparison, Pell grants cost between $33 billion and $34 billion a year. Education spending itself only accounts for just over 3 percent of the federal budget each year.
"It's not like it's doubling the department of education budget," Hermes said. "Nevertheless, paying for this is a very real issue."
James Kvaal, deputy assistant to the president for domestic policy, said that the White House was committed to the idea of making postsecondary degree attainment more affordable, accessible, and of better quality. "One thing that I hear a lot is that the most important thing we need to do to address the needs of community college students is not simply tuition, which is obviously very low in many places, but also in the other types of services—investing more in counseling and child care and the quality of courses."
Kvaal said that Obama sees the proposal as a historical parallel to the high school movement in the early 20th century.
Alluding to questions about financing the proposal, Kvaal acknowledged that the White House might not get all the funding it asked for. But he pointed to prior education initiatives from the White House as moments of bipartisan compromise. The White House may not have gotten all the funding it wanted, but still made some headway on the causes it champions.
"This is the way the legislative process works. When the president proposed the American Graduation Initiative in 2009, he asked for about a billion dollars a year. He ended up getting $500 million a year," Kvaal said. He said that Obama's Preschool For All was another example of moving forward, albeit incompletely, on an important issue.
"I think it is important to think a little bit about how we're going to move the ball forward on this idea. It may not be that Congress enacts a $75 billion funding proposal in a couple of months," Kvaal said.
Staff writer Catherine Morris can be reached at [email protected].