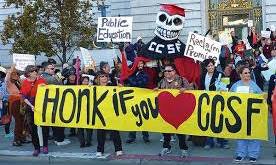 There is light at the end of the tunnel for the City College of San Francisco. The college has been embroiled in a legal battle with the Accrediting Commission for Community and Junior Colleges (ACCJC), ever since the commission voted to revoke the college's accreditation in 2013.
ACCJC's decision to revoke the college's accreditation came as a surprise to many in higher education. Nevertheless, San Francisco's attorney's office rallied around the CCSF, launching a lawsuit against the commission. The court blocked the commission's vote to strip the college of accreditation in 2014.
More recently, in January, the college won a further two-year reprieve, during which time it will maintain its accredited status. A judge ruled that the ACCJC must revisit its 2013 decision and prepare a written report specifying the college's "deficiencies" prior to 2013, on Tuesday.
Currently, the college is in "restoration status," meaning that it is open and accredited. The college is working to meet the accrediting standards by 2017.
All this is good news for the college, but the uncertainty surrounding its fate has caused enrollments to drop substantially, from over 100,000 students before ACCJC began its campaign against the college, to today's roughly 79,000. Due to declining enrollments, CCSF has been forced to cancel and consolidate classes.
"In that regard, ACCJC is winning. They're definitely succeeding in downsizing our school," said Dr. Karen Saginor, CCSF library department chair and former Academic Senate president. The current Academic Senate president, Lillian Marrujo-Duck, declined to speak about the battle between the ACCJC and CCSF.
Saginor says that she and other faculty are trying to raise awareness about the college to increase declining enrollments.
"We're frequently running into people on the street who say, 'Oh, is City College still open? I thought it had closed,'" she said. This is an unfortunate but false assumption, Saginor says. Until the dust settles, she fears that misinformed locals may miss out on the opportunity to obtain a certificate or degree at a lower cost than they could at competing institutions.
One item Saginor takes issue with is that in its fight for continued accreditation, CCSF is expected to meet "full compliance" with the ACCJC's standards, whereas other institutions only need to meet "substantial compliance." Despite that, Saginor believes that CCSF can overcome its current difficulties.
"I don't see this as a recipe for failure," she said. "I came out of movements in the 1970s, where if women wanted to do something, they had to prove they could do it better than any of the men, and City College is really in a position where of course we can do everything perfectly if we have to."
Staff writer Catherine Morris can be reached at cmorris@diverseeducation.com.