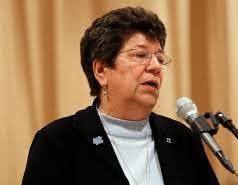 Jan Boxill, a senior professor, had also advised the women's basketball players.RALEIGH, N.C. — A senior professor at North Carolina's flagship public university has become the highest-profile casualty in an academic fraud scandal in which some administrators helped guide athletes to classes that gave easy grades so they could keep playing.
The University of North Carolina at Chapel Hill said Thursday that philosophy professor and former faculty chairwoman Jan Boxill is ending her fight to hold onto her job. The campus released a letter from Boxill, dated Monday, saying she was retiring and making her retirement effective two days earlier.
University officials began taking steps to fire her in October on the day that a scathing report into the cheating scandal was released. Campus Chancellor Carol Folt said the decision to fire her was prompted by "the extraordinary circumstances underlying the longstanding and intolerable academic irregularities" described in the report by former U.S. Justice Department official Kenneth Wainstein.
Boxill had been appealing the firing decision.
"Dr. Boxill has indicated her intent to seek retirement benefits based on her years of service as provided to state employees under North Carolina law," the school said in a prepared statement.
University personnel records released in January said Boxill, 75, was hired at Chapel Hill 26 years ago and earned a salary of $85,970.
The report found a pattern of fake classes that allowed 3,100 athletes and other students to earn artificially high grades from 1993 to 2011. While the sham courses were solely in the African studies department, multiple people around campus knew of them or suspected something but said nothing, the report said.
Boxill, who advised women's basketball players, directed some into the fake courses, sought at least twice to influence the grades given to students and acknowledged sometimes editing student papers, the report said.
The scandal earlier cost the jobs of an African studies professor and two academic counselors.
Folt said in October that four campus employees had been fired and five others disciplined for their roles in an academic fraud.