WASHINGTON — In a career that spanned more than four decades, Dr. Belle S. Wheelan has undoubtedly touched the lives of many.
On Monday evening, hundreds packed into a hotel ballroom to pay tribute to the longtime trailblazer on being named the recipient of the 2015 Dr. John Hope Franklin Award by Diverse: Issues In Higher Education magazine.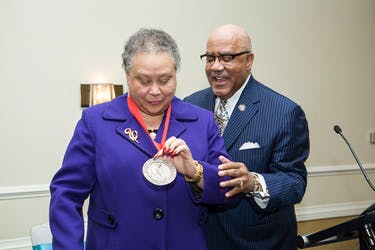 Dr. Belle S. Wheelan is presented the Dr. John Hope Franklin Award by longtime friend and colleague Dr. Walter G. Bumphus. (Photo by Ron Aira)Wheelan, 63, who is president of the Southern Association of Colleges and Schools (SACS) Commission on Colleges (COC), received the recognition at the annual meeting of the American Council on Education.
A former community college professor and administrator, Wheelan has carved out a distinguished career in higher education, spending several years as secretary of education for the governor of Virginia before being tapped to lead the regional organization that currently accredits more than 13,000 educational organizations throughout the South.
"This is one of the greatest honors in my 41-year career," said Wheelan, in an emotional speech. "I humbly accept this award on behalf of all of those whose lives I've touched."
Established in 2004 to recognize the extraordinary career of the pioneering Black historian, scholar and social activist, past recipients include scholars such as Drs. David Levering Lewis, James Comer, Maya Angelou and James M. Rosser.
Dr. Walter G. Bumphus, president of the American Association of Community Colleges, who first met Wheelan 32 years ago while the two were both enrolled in a doctoral program at The University of Texas at Austin, presented Wheelan with the award.
U.S. Senator Mark Warner, who formerly served as governor of Virginia, attended the ceremony and paid tribute to Wheelan, who he appointed as secretary of education in 2001 after she worked as president of Northern Virginia Community College.
"No matter where she went in Virginia, she brought that commitment and energy to every situation," said Warner. "What she has done for education, Dr. Franklin would be very proud that you have chosen Belle for this distinction. Virginia is better because of her activity as college president and secretary of education."
Jamal Eric Watson can be reached at jwatson1@diverseeducation.com. You can follow him on Twitter @jamalericwatson.