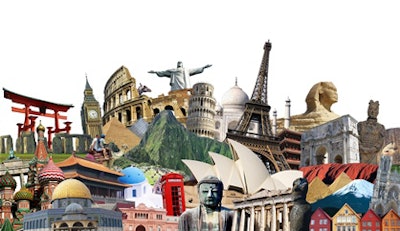 New York — Colleges and universities can greatly increase the number of students who study abroad—including those from disadvantaged or underrepresented groups—if they make a concerted effort to do so.
That was the heart of the message delivered by leaders at three institutions of higher learning that were recognized Friday for boosting the proportion of students who participate in their campus study abroad programs.
One of the most important elements of any effort to expand participation in study abroad programs is to incorporate the goal into a plan, said Martha Johnson, Assistant Dean of the Learning Abroad Center at the University of Minnesota.
"What would it take to make a radical change in your context?" Johnson said institutional leaders should ask themselves as they seek to get more students to study abroad.
The number of students at the University of Minnesota who study abroad went from 715 in the 1998-99 academic year to 3,500 students during the current academic year, far outpacing the university's overall student growth during the same time period, according to figures presented by Johnson.
Johnson cited the figures Friday at the Institute of International Education's Tenth Annual Best Practices Conference, titled "Lead Your Campus to the Top: Best Practices in Internationalizing the Campus." Her school received an honorable mention for its study abroad efforts.
Johnson said her institution implemented a number of reforms to broaden participation in study abroad programs. For instance, she said, leaders at the school tackled "reader bias" among those who review the applications of students to study abroad after seeing that the scholarship reviewers were valuing certain types of programs over others.
"We had to go back and say it's not for them to decide what opportunity is best," Johnson said, noting that, previously, the applications of engineering students and those who planned to visit developing countries were being approved at higher rates than others.
In examining why more students didn't study abroad, Johnson said the university discovered that many students were being prevented from studying abroad because of procedural issues with their financial aid.
"They had enough financial aid to cover it, but it was disbursed too late," Johnson said.
For that reason, Johnson encourages university leaders do what her institution did by providing "bridge loans" or to purchase plane tickets for students and then bill them later in order to overcome disbursement issues. Since the university started making loans to study abroad, Johnson said that dozens of students have taken advantage of the loans and that none of them has defaulted.
The Study Abroad program at SUNY New Paltz won IIE's Heiskell award for Study Abroad for the results the school achieved through a partnership between its Center for International Programs (CIP) and the Educational Opportunity Program, or EOP, which serves academically and economically disadvantaged students.
The school requires students to make study abroad as part of their overall college plan that they must develop during a first-year seminar. Students in the seminar must create an eight-semester plan in which they embed study abroad experience.
"Early planning is key, particularly for this student population," said Christian Wilwohl, Study Abroad program director at SUNY New Paltz. "We want students to have a good experience, but we also do not want it to delay their graduation."
As it turns out, according to statistics Wilwohl presented at the conference, students who study abroad actually graduate at higher rates and faster than those who don't.
Specifically, the figures show, SUNY New Paltz students who study abroad have four-, five- and six-year graduation rates of 38, 100 and 100 percent, respectively, versus 27, 57 and 63 percent, respectively, for non-study-abroad students.
Having such figures at the ready helps make the case for support for study abroad programs, Wilwohl said.
"It's powerful to use statistics not only to convince students, but partners that study abroad will not delay graduation, and, in some cases, the graduation rates are higher than the general student population," Wilwohl said.
Wilwohl also encouraged university leaders to tackle what he termed the "Three F's"—financing, family and fear—that sometimes dissuade students from studying abroad.
Some students may serve as translators for their families, who may be reluctant to let them go abroad for an extended period of time. Scholarship funds should be created to lessen the financial burden of study abroad, he said.
"Financial support mechanisms are important," Wilwohl said. He cited a Global Scholars program that has given 19 awards worth a total of $60,000 and a different program that awarded $19,500 in travel grants to 26 students as examples.
Wilwohl encouraged university leaders to be thoughtful about developing relationships with universities in other countries in order to make the most of the experience.
"They may not be accustomed to providing services or having these types of students," Wilwohl said in reference to EOP students. "Overseas partners must be aware of who students are and what their needs are."
Geoff Bradshaw, International Education Director at Madison Area Technical College, spoke of the need for more community colleges to get involved with study abroad programs, particularly since employers increasingly value employees with intercultural communication skills.
"This has been a change that community colleges across the country have been seeing with employers needing students to be able to work with diverse teams across the world," said Bradshaw, who is director of the Community College Sustainable Development Network, which won IIE's Heiskell award for Internationalizing the Community College.
Since roughly half of all students attend community colleges and many community colleges lack the infrastructure and staff to offer study abroad programs, community college students are "vastly underserved" in this regard, Bradshaw said.
But the practical experiences that await community college students and faculty in other parts of the world are invaluable, Bradshaw said. He cited a faculty-led renewable energy program that Madison College did in Costa Rica as an example.
Faculty members and students ran wires and cables from solar panels to homes that previously lacked electricity, Bradshaw said.
The program got "great feedback," Bradshaw said, with one faculty member indicating that it was the "most interesting and informative experience he ever had."