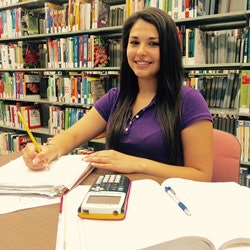 When Rosaria Eraso graduated from Catholic High School of Baltimore, she decided to attend the local Community College of Baltimore County (CCBC). She did not want to go to a four-year college before being certain about her academic goals. "I was unsure what my major was going to be," she says.
At CCBC, Eraso decided to pursue an associate degree in general studies and is researching di­fferent majors for when she transfers to a four-year university. The school year is busy for her. In between classes, she competes in lacrosse, which she played last year at CCBC; dances with a local rec team; and puts in 20 hours a week working at LA Fitness.
Entering CCBC, Eraso says she knew that math would be her greatest quandary other than deciding on an eventual major. It was never her strong suit in high school, she says. When she took the entrance exam, she placed into the remedial level, which gave her some concern. "I knew that it would be a setback to have to take all those classes," Eraso says.
Students cannot graduate until they pass an entry-level, credit-bearing math class, so the college suggested that she take its Accelerated Math Program (AMP) to catch her up to speed. AMP allows students to take an upper-level math class and a lower-level class simultaneously. The lower-level class offers more academic support and the upper-level class moves students through the remedial sequence faster than they would otherwise.
CCBC is well known for its Accelerated Learning Progam (ALP), a developmental writing program. Like AMP, ALP combines upper-level and lower-level writing classes, putting students on track to complete English 101 faster than they would in a traditional remedial class.
ALP was the subject of a series of Community College Research Center (CCRC) studies. CCRC researchers found that the ALP approach resulted in better outcomes for students in terms of completing credit-bearing English classes.
"Often lengthy remedial sequences pose a barrier to completion for students and what we've seen is that co-requisite models are oftentimes the most promising reforms in terms of the impact that you see on completing remedial sequences and completing a gatekeeper course in math or English," says Madeline Trimble, a data analyst at the CCRC.
Remedial education issues
A few years after ALP was implemented and proved to be successful for students, CCBC created AMP. ALP and AMP are both responses to issues with remedial education: on the national level, not just in Maryland, students who start out in developmental classes have much lower success rates than those who start out in full-credit classes. Remedial sequences can be several semesters long, and extend the period before students see any kind of result in the form of college credit in return for the investment of their time and money.
At CCBC, a large percentage of students need at least some form of remedial education. About 79 percent of students entering CCBC will place into a developmental class, according to the institution.
Dr. Mark McColloch, CCBC vice president of instruction, says that there are a number of reasons why CCBC's students may need remediation. One issue is that relatively few students come to CCBC straight out of high school.
"People have typically been out of school for a couple years, and so especially with intermediate algebra, people have a really strong tendency to forget that, if they've been away from it for more than a year," McColloch says.
According to the school website, only 9 percent of CCBC students in 2014 were under the age of 20.
The demographics of the county have also changed over the years. The county is more diverse, with growing numbers of minority students. Although CCBC serves primarily county residents, about 13 percent of CCBC's students come from Baltimore, whose residents have on average lower educational attainment than those from the state itself. "We actually have almost as many city residents going to the county community college as go to the city community college," McColloch says.
He says it is more difficult to persuade students to take AMP classes as opposed to ALP classes, which account for around 90 percent of remedial writing classes. McColloch says one difference is that students need to pass English 101 before they can move on to other classes, while math can be put off until the end. Currently, between 17 and 20 percent of all remedial math classes at CCBC are AMP classes. CCBC's goal for the next three years is to move that number closer to 40 percent.
Another deterrent is what McColloch refers to as the "stigma" surrounding math and English.
"Unfortunately, there's not much stigma in the U.S. about [not] doing well in math, people just accept that," he says. "But if you're not in English 101, there really is a stigma attached to it, so people are anxious about getting into the 101 class."
Improving results in remedial education may be one way to improve student retention and graduation more generally. According to data collected by Complete College America (CCA) in conjunction with the Maryland Higher Education Commission, only 18.9 percent of all Maryland students earn a two-year associate degree in six years. For African-American students, the percentage is 9.8 percent, and for Hispanics, 17.5 percent. Only 4.2 percent of all students complete their two-year associate degree on time.
"Just to be clear, Maryland is not unique," says Bruce Vandal, vice president at CCA. "This is a challenge for virtually every college and community college system in the country."
Danielle Truszkowski, a CCBC instructor and AMP director, says that the program has had a great impact on students. Not only are they moving through the program faster, they are also hitting their stride with math.
"Often students who come in at the remedial level believe that they're bad at math or can't do math," she says. "But then when they're successful, then they almost think they're Einstein. It gives them a whole new attitude and outlook."
Truszkowski is careful to note that AMP is no walk in the park.
When students take the two companion classes, they have tests and quizzes in each, doubling the amount of work. She says instructors caution students ahead of time about the amount of work, but stress that their work will pay off in the end. Students respond well to the raised expectations as well, meeting their instructors' goals. Eraso can attest to AMP's success. Although she started out in the 081 remedial class, she passed 163, a credit-level class, this spring. She is set to graduate next December.
"I definitely have no regrets," she says. "I think CCBC is a great stepping stone. It's a great place to start, especially if you don't know what you want to do."
Staff writer Catherine Morris can be reached at cmorris@diverseeducation.com.