Virginia Gov. Ralph Northam proposed a plan to make community college free for residents from low- or middle-income backgrounds going into particular fields with skilled labor shortages in Virginia.
He announced his $145 million proposal – "G3" or "Get Skilled, Get a Job, Give Back" – at Northern Virginia Community College's Annandale campus on last Thursday, The Washington Post reported. Northam plans to bring his overall budget plan before the Virginia legislature on Tuesday.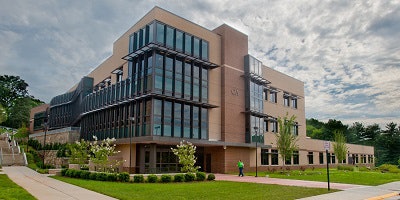 "Everyone deserves the opportunity to get a good education and a good job, no matter who you are or how much money you have," Northam said in a statement. "This is an investment in equity and our economy – by helping Virginians get the skills they need, we're building a world-class workforce while ensuring all Virginians can support themselves, their families, and their communities."
The plan offers funding toward tuition, fees and books after all other possible forms of financial aid have been applied. For students at the lowest income levels, it also provides support for expenses like childcare, transportation and food. Pell Grant recipients who are full-time students will receive a Student Support Incentive Grant, which can be up to $1,000 per semester and up to $500 for summer school.
"With rising tuition costs, many Virginians are opting out of higher education," Virginia Secretary of Education Atif Qarni said in a statement. "The G3 program provides affordable, accessible workforce pathways that will prepare the Commonwealth's students for the growing number of high need jobs that do not require a four-year degree."
For every hour of class credit, participating students would be required to perform two hours of community service.
Qualified applicants must be eligible for in-state tuition with less than or equal to a total income of 400% of the federal poverty level, about $100,000 for a family of four. Students will lose state funding under the program if they miss community service hours or their GPA falls below a 2.0.
The goal of the program is to target specific Virginia industries in need of skilled workers, like healthcare, public safety, early childhood education and information technology.
"With Virginia's record low unemployment rate, businesses are hungry for skilled talent," Chief Workforce Development Advisor Megan Healy said in a statement. "The G3 program will help Virginia businesses of all sizes fill open jobs, connect Virginians with the necessary training and credentials to find good-paying work, and grow the Commonwealth's economy."
The G3 program is a part of a growing movement among states to offer free community college. Right now, 19 states have free tuition at public community colleges, and other states are currently on their way to offering similar programs. Free tuition for two-year degrees has also been a popular topic of discussion among Democratic candidates in the 2020 election.
However, the impact of free community college programs is still up for debate.
Proponents say it is an affordable higher education option as tuition skyrockets, but recent research indicates that free community college may not benefit low-income students as much as lawmakers hope. A Brookings Institution study "Policies and Payoffs to Addressing America's College Graduation Deficit" – found that free community college did in fact increase the number of associates degrees. However, it also drew students away from the four-year university sector and had the lowest gains for low-income students who already receive Pell Grants. The report advises "targeted elimination" of tuition and fees at four-year colleges and increased spending for public colleges overall as a more effective strategy.
Another report by the Institute for Higher Education Policy – "The State of Free College: Tennessee Promise and New York's Excelsior Scholarship" – analyzes two state free college programs and also found that most funding wasn't allocated to the students with the most need.
The study recommends a number of ways state-level free college programs can focus resources on low-income students, like funding non-tuition expenses for students in need, as G3 attempts to do, including four-year colleges in free college programs and supporting established need-based grant programs. It also advises avoiding restrictive requirements for aid, perhaps a challenge to programs like G3 with obligations like community service.
Ultimately, the report stresses that free college programs have to be designed with "equity at their core" to be successful.
Sara Weissman can be reached at [email protected].