Dr. Stevie Watson is a problem-solver. 
This is according to his colleagues, who say they've seen him build missing bridges over troubled waters for challenged students. 
Watson already has demonstrated those skills in his first months as the dean of the School of Agriculture, Business & Technology at the State University of New York (SUNY) Morrisville, they said. He is the first person to hold that position, since SUNY Morrisville became one of two new schools the university formed after reorganizing programs previously spread across four schools.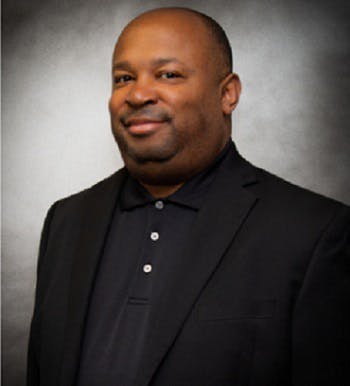 "For me, three critical things are important when it comes to students: recruitment, retention and graduation," said Watson. 
One of the reasons he took the job at SUNY Morrisville was because of the school's strong focus in agricultural studies and research and the implications for those disciplines in job opportunities and growth.
"It touches so many different aspects of business," he said. "So, you can't separate agriculture from business because it's intertwined. And the same thing for technology."
Prior to starting his new position in July, Watson served as dean of the School of Business at Edgewood College in Madison, Wisconsin. He also has worked as a business information specialist, financial analyst and marketing analyst at Bryan Foods, a company owned by the Sara Lee Corporation. 
Beyond his business and marketing expertise, Watson stood out to SUNY leaders as someone well-versed in diversity and inclusion; employee and program development; and executive advisory board management and community relations. 
In announcing Watson's appointment in July, provost Dr. Barry L. Spriggs noted that Watson "has demonstrated interest in fields of study beyond his own and has an impressive set of skills and experience. He brings a unique blend of leadership, academic and professional experience, all of which are required to carry out the mission of the college." 
With a bachelor's degree in marketing, a master's degree in business administration and a doctorate in marketing — all from Mississippi State University — Watson's current research interests include societal issues in marketing and ethnic and racial studies as well as retail service failures and recovery strategies. 
Watson arrives at a time when the SUNY system, which is made up of 64 campuses, has seen several years of declining enrollment — down 9.9% between 2010 and 2018.
Within that decline, the biggest drop was at SUNY's community colleges, where enrollment fell 2%. While total enrollment at SUNY's four-year colleges slightly increased — up 1.05% between 2010 and 2018 — SUNY Morrisville's enrollment declined 13.5%. 
The enrollment drop is mostly due to the declining population in upstate New York, resulting in fewer teens graduating from high school in the region, SUNY Morrisville spokesman Robert Blanchet said. Roughly 40% of SUNY Morrisville's enrollment comes from four upstate counties: Chenango, Madison, Oneida and Onondaga, he said. 
While shrinking state budgets put pressure on colleges to generate revenue — and tuition rate increases have outpaced inflation rates — SUNY Morrisville's tuition is lower than that of many public colleges, Watson said. 
In the 2018-19 academic year, the national average cost for in-state college tuition and fees, excluding room and board, was $10,230 at public four-year colleges, according to the College Board, compared to $8,970 at SUNY schools. 
SUNY Morrisville focuses on providing holistic education for students — going beyond lessons offered in books, Watson said, and training students to be problem solvers, great communicators and ethical members of the workforce. 
"It calls for us to mentor," he said. "I've had so many great mentors in my career who helped me get to where I am today. You can't do it alone." 
In his short time at SUNY Morrisville, he's already served as a mentor to students and a resource to faculty members, even volunteering to teach a fall semester class at the last minute when a faculty member unexpectedly left on sabbatical, said Dr. Linda Turner, chair of the Division of Hospitality and Business in SUNY Morrisville's School of Agriculture, Business & Technology.
 She was a member of the search committee for the job that Watson holds now. 
"I've been extremely impressed with his commitment to excellence and his commitment to students," she said.