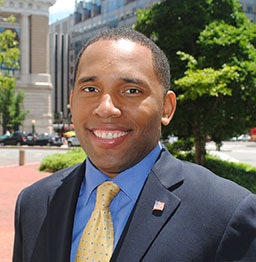 San Jose, Calif. — Nearly 100 HBCU stakeholders are meeting at a symposium here this week seeking to leverage the intellectual capital and top-tier research activity at HBCUs into dollars needed to ensure institutional viability in the years to come.
Held in conjunction with OPEN 2014-the National Collegiate Inventors & Innovators Alliance's (NCIIA) 18th Annual Conference, the HBCU Innovation and Entrepreneurship Collaborative Symposium highlighted numerous opportunities HBCUs have to attract more grant dollars and join forces to kick-start their entrepreneurial activity. The symposium is being hosted jointly by the Association of Public and Land-Grant Universities (APLU), NCIIA, the United Negro College Fund (UNCF) and the United States Patent and Trademark Office with funding from The Lemelson Foundation and the Lumina Foundation.
"One of things that I've been wanting to do is really changing what HBCU means," says Dr. John Michael Lee, an APLU vice president who leads its Office for Access and Success. According to Lee, though HBCUs have traditionally been known as simply "a place where African-Americans students are educated," there is "so much more" to their story. HBCUs "have superior students, they do research, they do innovation." Nevertheless, leading-edge research and innovation "is not what we think about we think about HBCUs."
Dr. Chad Womack, who serves as director of science education initiatives for UNCF, spoke to the significance of holding an HBCU symposium in the heart of Silicon Valley. According to Womack, this symposium does speak to the need for HBCUs to collaborate for mutual benefit, but also, it is the building of relationships between HBCUs "and Valley stakeholders like Stanford, like Google, like Facebook, ect., that begin to raise our profile to a level where we can start to think more broadly about how to create value. And how to connect that value to our campuses."
Dr. Eric J. Sheppard, dean of the School of Engineering and Technology at Hampton University, sat on a panel yesterday titled "Current Trends in Innovation at HBCUs" and highlighted startling statistics showing the miniscule fraction of grant dollars HBCUs are attracting, relative to their majority counterparts. Sheppard says that connecting HBCUs to Silicon Valley could help turn the tide.
"In addition to the things that we're doing amongst ourselves, there's great potential to really open up a new overall relationship between forward-thinking Silicon Valley firms, and the Hamptons, Howards, Tuskegees, ect., that are producing great students," Sheppard says. Such Silicon Valley companies "may not be sending folks to come and recruit our students. They may not be thinking of doing contract work with our faculty because they just don't know who we are. Obviously, they know who Stanford and Berkeley and MIT and Harvard are. … A lot of times we do incredible things but it doesn't get disseminated."
Lee also sees the necessity of HBCUs demonstrating their value to those not familiar with the work of HBCUs.
"If people are able to see your value, over and over again, then they're going to be willing to invest more. What sort of happened in the past is — there was an erosion of that. There was money given from foundations that didn't pan out, there were grants from NSF and places — they never knew what happened [to the money]."
Womack says he was galvanized by "some very specific incidences where a foundation gave a pretty significant amount of money and invested in a particular HBCU and it was a disaster, and it ruined the brand."
According to Lee, it's not just those outside the HBCU community who should see HBCUs as more than a place where African-Americans are educated, but even those within the community "have to start seeing HBCUs differently. It's not only about the mission to serve African-Americans, but we serve the nation. We serve the world in our output. We serve the world in the problems that we are solving, and how we are engaging in research and economic development in our local communities."
Ultimately, Sheppard says HBCUs "need to find ways to work together. Individually, each of us can say we don't have the resources to compete, but together, we're powerful."
The HBCU Innovation and Entrepreneurship Collaborative is a cohort of 15 HBCUs which have committed to participate in a multi-year effort to foster innovation, commercialization, and entrepreneurship on their campuses to improve student success via implementing new courses, transforming teaching practices, and partnering with government and private industry.
Participating institutions are Clark Atlanta, Fayetteville State, Florida A&M, Hampton, Howard, Jackson State, Morgan State, North Carolina A&T, Prairie View, Tuskegee, and Virginia State universities, along with Morehouse College, the University of Maryland Eastern Shore, the University of the Virgin Islands, and Xavier University of Louisiana.