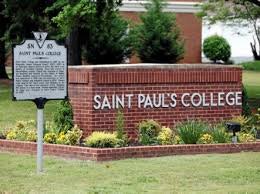 RICHMOND, Va. ― A U.S. government plan to temporarily shelter hundreds of Central American children and teenagers on the campus of a closed college in rural Virginia was put on hold Monday amid complaints by local officials that they were kept in the dark.
The Administration for Children and Families, a division of the federal Department of Health and Human Services, said the plan to utilize St. Paul's University has been delayed until a public meeting is held on the proposal Thursday.
"This site is on hold pending community input," administration spokesman Kenneth Wolfe wrote in an email to The Associated Press.
The unaccompanied immigrant children were to be sheltered on the historically Black university's campus in Lawrenceville, which closed one year ago amid a mountain of debt and questions about its governance. The private campus is up for sale.
The children and teenagers were caught entering the country illegally following a surge in border crossings. They are being held on an interim basis at military bases and other shelters in the Southwest and West.
Officials in Brunswick County, home to St. Paul's and located in Virginia's tobacco-growing belt, complained they only recently learned the children and teenagers were to be housed on the campus. They met Monday with federal officials.
Sheriff Brian Roberts said the community is concerned the rolling St. Paul's campus is in an inadequate and insecure location to house the young immigrants. Residents are fearful some of the teenagers might have gang ties or bring communicable diseases into the farming community, he said.
"The community was just devastated" as news spread of the plan, Roberts said. "How could this happen? How could a private college enter into a federal government contract with no input from local government?"
Roberts said local officials appealed to Virginia's U.S. senators and their congressmen to arrange the Monday meeting.
A spokesman for Sen. Mark R. Warner said the Democrat and his staff worked through the weekend to arrange the meeting, "insisting that the federal agencies involved get people on the ground in Brunswick County first thing today."
The way it was handled, Kevin Hall said, "was disrespectful and inappropriate to move forward with a plan like this without involving the local community."
Town Manager C.J. Dean said the primary concern among residents of the town of nearly 1,500 has been public safety and health concerns, as well as the lack of communication from St. Paul's and federal officials.
Dean said some of his concerns were addressed during Monday's meeting. "Based on everything we have heard today, this could work," he said.
Roberts said the first arrivals were due Thursday, with 50 boys and teenagers up to 17 arriving. He said the St. Paul's arrivals were primarily boys and teenagers, with about 20 percent expected to be girls. He said their native countries were Honduras, Guatemala and El Salvador.
More than 47,000 children, primarily from Central America, have been apprehended at the Mexican border since October.
St. Paul's President Millar D. "Pete" Stith Jr. did not return a telephone message Monday. The agent handling the school's sale said the campus was to be a temporary address for the children while family members were sought or a permanent placement could be found.
Patrice Carroll said the arrangement was seen as a way to generate income for the college to cover its operating expenses.
St. Paul's was founded after the Civil War to educate Black men and women in the segregated South.
The government selected St. Paul's after it approached Virginia Health and Human Resources Secretary Bill Hazel and he recommended St. Paul's, a spokeswoman said. "We have not had a role in this," spokeswoman Christina Nuckols said.