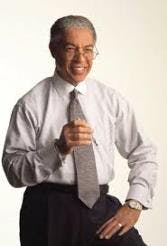 "This is our moment. This is our time to put our people to work and open doors of opportunity for our kids; to restore prosperity and promote the cause of peace; to reclaim the American Dream and affirm that fundamental truth — that out of many, we are one; that while we breathe, we hope; and where we are met with cynicism, and doubt, and those who tell us we can't, we will respond with that timeless creed that sums up the spirit of a people: Yes, we can!" —President- Elect Barack Obama, Grant Park, Chicago, November 4, 2008
The above words were spoken by our first African-American president upon winning the presidency of the United States. Barack Obama's words are a true reflection of the greatness of America and its promise of equal opportunity for all. So, as we celebrate the contributions of African-Americans during Black History Month, it behooves us to reflect upon the journey of African-Americans in this country.
It is one that started with the forced migration of a people from a motherland to an unknown world, to subsequent slavery and the ensuing struggle to become free of the chains that bound, to the new taste of freedom and a thirst for learning.
That journey was the result of courageous, well-educated leaders such as Frederick Douglass, whose influence and eventual friendship with President Abraham Lincoln helped to bridge the great divide between White and Black and set a new course for this nation.
Along that journey were three great forces that became the cornerstones for the spiritual, academic and social development of African-Americans: the African-American church, historically Black colleges and universities (HBCUs) and African-American media. These three forces made a significant difference—and continue to contribute—to the growth of our people today.
The African-American church
The formation of the first churches was out of necessity –to maintain faith while enduring the most severe challenges, ones that often led to forced hardship and premature death.
In addition to providing this foundation for faith, the early churches were also, in many cases, the key to laying the foundation for the first schools to educate African-Americans: HBCUs.
Many HBCUs are affiliated with denominations widely recognized for their support in the African-American community: the various Baptist conventions, the African Methodist Episcopal Church, the United Methodists and the United Church of Christ.
For example, Xavier University in New Orleans, Louisiana, the nation's leading educator of future Black physicians and pharmacists, is a Catholic institution, and Oakwood University in Alabama is a Seventh-day Adventist Church institution.
Historically Black colleges and universities
HBCUs embraced African-Americans when others would not. They have contributed so much to the journey of our people through the cultural and educational opportunities offered. This is why it is critical that we enhance awareness of these great institutions as they continue to offer postsecondary educational opportunities.
While comprising only 3 percent of the nation's approximately 3,700 institutions of higher learning, HBCUs have been responsible for producing approximately 23 percent of all bachelor's degrees, 13 percent of all master's degrees and 20 percent of all first professional degrees earned by African-Americans annually.
African-American media
These entities told our stories when others would not. African-American media have kept communities informed even as they have struggled to survive.
As in the beginning of African-American media, when Freedom's Journal was launched and published by a group of free Black men in New York in 1827, the Black press has served as a voice against slavery, as well as serving the role of activist and community informant for African-American communities, primarily on the East Coast and through the Southern states.
Today, African-American media can be found in all forms, from print to television to specialized and focused blogs on the Internet. Whatever the form of delivery, African-American media remain a most essential voice, informant and educational resource in support of African-American contributions to the United States.
This month is an appropriate time to salute each of these forces that have played major roles in the shaping of America.
Since 1837, when the oldest HBCU, Cheyney University of Pennsylvania, opened its doors, HBCUs have contributed to the rise of Black professionals, business leaders, teachers, physicians, artists and engineers.
HBCUs produce 44 percent of all African-American bachelor's degrees awarded for communications technology, 33 percent of bachelor's degrees awarded for engineering technology, 43 percent of bachelor's degrees awarded for mathematics and 40 percent of all doctorate degrees awarded to African-Americans in the field of communications.
African-American media appear to be more important than ever. Even though African-Americans receive more extensive coverage in traditional media, the coverage is often slanted toward the negative or controversial and not focused on the positive contributions being made by a significant segment of the American population.
Without faith, people perish and the African-American church continues to play a most essential role in the growth of the African-American community.
As we celebrate our history and legacy this month, we humbly and gratefully acknowledge all of those who have enabled our people to flourish.
John T. Fleming is founder and CEO of Black Educational Events, LLC.