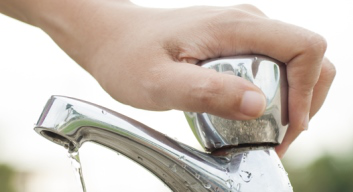 SAN FRANCISCO – Whenever Dennis Elliot hears university employees complain that brown lawns and withering plants will discourage students from enrolling at California Polytechnic State University, San Luis Obispo, he reminds them that maintaining lush landscapes merely for the sake of aesthetics will sink their water conservation efforts.
"Part of my job is to spin things positively," said Elliot, the campus's associate director of energy, utilities and sustainability. "A green lawn is bad; brown is good. Besides, if we don't cut back our water usage, we'll have to explain to (Cal Poly's) president why we failed. I ask our critics how we should otherwise meet the president's cutback goals, and that generally quiets them down."
Elliot's remarks came during the annual California Higher Education Sustainability Conference last week. Hosted by San Francisco State University, the gathering brought together campus green officers, educators and industry experts. Because California's drought has resulted in mandatory cuts in water usage statewide, Elliot and his peers shared best practices and protocols that have helped their institutions.
Even if campuses outside the Golden State don't have restrictions in water usage, they said, their efforts can be adapted elsewhere to trim utility bills.
Cal Poly, the University of California, Santa Cruz and California State University, Long Beach are now saving a combined 90 million gallons of water annually.
In recent years, each institution installed low-flow shower heads, toilets and faucet aerators. They drastically reduced irrigation to campus grounds, such as by switching from spray to drip irrigation. Previously, about half the water used among their institutions went to landscape, sports fields and agriculture operations.
UC Santa Cruz improved its water metering, which revealed numerous leaks needing fixes. "It's not whether you have leaks, it's where you have them, because everyone has them," said campus energy manager Patrick Testoni.
At Cal State Long Beach, its Japanese garden saw a 90 percent drop in water usage once the type of filtration was changed. The 1.3-acre plot, financed by a donor's gift, is an outdoor classroom for the visual arts and sciences.
Still, such austerity doesn't attract support across-the-board. At Santa Cruz, officials now strategically negotiate with conference organizers from outside the state so that the latter fully comprehend why water won't be as readily available during their events on campus as they would normally expect. Testoni said that, a year ago, these misunderstandings and frustrations resulted in lost revenue for his university when disgruntled conference organizers decided to take their business elsewhere.
Elliot said that, when the rains eventually return, the university will hold student competitions to devise new landscape designs.
At Long Beach, students have already helped promote conservation efforts with a social media campaign dubbed "Water You Doing?" In April, the university sponsored events letting campus constituents taste-test bottled water versus tap, learn more about the environmental impact of bottled water and see how U.S. daily water usage compares to that of other countries.
But throughout the state, undergraduates have branched into other eco-friendly causes, some of which were explored at last week's conference.
Two years ago, when De Anza College students urged the administration to divest its holdings in fossil fuel companies, Dr. Brian Murphy approached board members of the school's foundation on their behalf.
For the most part, Murphy, De Anza's president, was an observer during a process in which students lobbied board members to make a socially responsible decision to help push for climate change. Eventually, De Anza became the first community college in the country to decide to divest in coal, oil and natural gas companies.
"What we're doing is making a statement," Murphy said. "Even if we have a financial loss, we're willing to sustain it."
He and four other college presidents spoke at a plenary discussion about fossil fuel divestment, a cause similar to the anti-apartheid and the anti-tobacco movements. Universities and other organizations that choose to divest fossil fuel holdings do so for moral or political reasons, such as taking a stand against the fossil fuel industries' opposition to government regulations.
The five college presidents at the panel discussion said that students initiated divestment efforts by approaching them. All five institutions have either divested their holdings or are in the process of doing so.
"Don't be afraid to listen to students for the merit and substance of what they're seeking," said Dr. Les Wong, president of San Francisco State. "But it will be painful at times."
Dr. Thomas Poon, interim president of Pitzer College, agreed, recalling the e-mails from upset alumni and parents of current undergraduates who shared their opinions about good work by fossil fuel companies.
Divestment is complicated, as is the process of determining which companies are applicable.
For instance, San Francisco State holdings have included companies that simultaneously have tar sands interests yet conduct research in alternative energies, Wong said. At Humboldt State University, officials decided to divest their holdings in the entire energy sector, meaning not only extraction industries, but also drilling and other support businesses.
Dr. Paul Zingg, president of California State University, Chico, said that institutions such as his that invest in mutual funds are sometimes indirect investors in fossil fuels.
But by choosing divestment, Zingg and others can work with fund managers to have greater say in investment choices.
After all, money isn't everything, Zingg said, adding, "Values trump money."