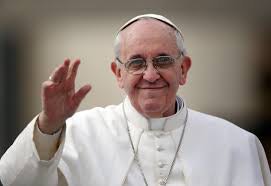 SOUTH BEND, Ind. —The University of Notre Dame plans to stop burning coal within five years and to cut its carbon footprint by more than half in the next 15 years in response to Pope Francis' plea for bold action to curb climate change.
Notre Dame's president, the Rev. John Jenkins, will announce Monday in a statement obtained by The Associated Press that the university is planning to spend $113 million on renewable energy sources, including a hydroelectric project, solar power and geothermal fields, which would collectively reduce carbon dioxide emissions by 47,500 tons.
Jenkins said the steps come in response to the pope's plea, along with his visit this week to the United States. Jenkins is scheduled to attend a reception for Francis at the White House and a Mass with him at the National Shrine of the Immaculate Conception, the Washington church where the pope will meet with U.S. bishops.
The pope said in an encyclical in June that the state of the environment is a central moral issue of our age and put care for the environment at the center of Catholic social teaching.
Jenkins told faculty members in a speech last week that the pope "presents us with a comprehensive moral vision about the environment, technology, the character of our communal lives, and our responsibility to the poor and marginalized the dangers of a compulsive consumerism, and the need for global solidarity. It is a challenging moral vision, but one for which, I believe, our world is hungry, and no university is better positioned to respond."
At its peak a decade ago, Notre Dame burned 80,000 tons of coal in a year. For the past two years, it burned less than 15,000 tons a year.
The university is working with the city of South Bend to obtain state and federal permits to build a hydroelectric facility on a city-owned dam on the St. Joseph River in downtown South Bend. The university hopes work can begin in the next year and the facility will produce 7 percent of current campus electrical needs.
Among the initiatives the university is considering is installing combined cycle combustion gas turbines to produce electricity and steam. The units will displace older power plant boilers with newer, higher-efficiency and lower-emissions sources of energy.
Notre Dame currently generates about half of its own electrical energy needs, with the rest coming through the purchase of electricity from Indiana Michigan Power.