Ten years after Dr. Johnnetta Betsch Cole left the all-women's college in Greensboro, North Carolina, the institution decided to honor her by renaming a new dormitory on campus.
Bennett College formally renamed its honors dormitory after Cole during the institution's Founder's Day celebration on Sunday to commemorate the legacy of its 14th president. The honors dorm is now the Johnnetta Betsch Cole Honors Residence Hall.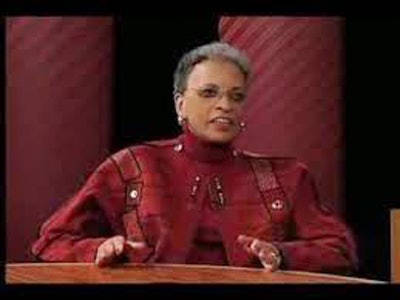 "You have given me an incredible honor — to have my name on a building where students committed to excellence, defined as honors students, recommit themselves to soar to the heights of their possibility," Cole said at the renaming ceremony.
The 140-bed, $7.2 million dorm was built in 2010 and is reserved for students in Bennett's honors program. Board of trustee members announced the decision to rename the dorm in May.
Bennett's 144th Founder's Day festivities also included a silent auction and a convocation in the Annie Merner Pfeiffer Chapel where Cole served as the keynote speaker. During her speech, the former president encouraged students and others present to remain involved in advocacy during times of crisis, citing the White nationalist rally in Charlottesville as an example.
Cole, who is president emerita of both Bennett College and Spelman College — the only two all-women's historically Black colleges in the country — reminded students that while Bennett may be facing a financial accreditation crisis, "I want to clearly and unequivocally declare that protecting and sustaining Bennett College is a necessary form of activism that each of us is called to do," she said.
During her tenure at Bennett from 2002 to 2007, Cole led a $50 million capital campaign to help sustain the college amid a similar accreditation crisis. Cole also established an art gallery on campus, created new women's and global studies programs and founded the Johnnetta B. Cole Global Diversity and Inclusion Institute.
Currently, the renowned educator and anthropologist serves as a senior consulting fellow of the Andrew W. Mellon Foundation where she advises Mellon officials on initiatives and activities related to diversity, accessibility, equity and inclusion in art museums and museum-related academic disciplines. This comes after Cole directed the Smithsonian National Museum of African Art for the last eight years and retired in March.
However, Cole's involvement in Bennett College did not stop with the end of her presidency. Students and board of trustee members acknowledge the unwavering support that Cole has given to the college over the years.
And since May, Cole has been working with the college to raise $1.5 million through the Johnnetta Betsch Cole Scholars Campaign. The crowdfunding campaign will provide scholarships for honors students who live in the residence hall named in Cole's honor.
Bennett president Dr. Phyllis Worthy Dawkins joined Cole at the renaming ceremony Sunday as they watched the unveiling of the name on the new honors residence hall.
At the ceremony outside the residence hall, Cole asked those in attendance to support the fundraising campaign and to remember that "the good Lord will help those who help themselves."
"Our self-help program is to raise enormous amounts of money so that every honors student who wants to be here, who is here, can concentrate on learning and serving because she will have a scholarship," she said. "Now if you think that we can't do this…if you think you are too small to make a difference in this campaign, I remind you of an African saying: 'If you think you're too small to matter, you've never spent a night in a room with a mosquito.'"
In an interview with Diverse, Cole said that she is humbled by the recognition.
"I can say from –- let me put it this way –- not from the top and not from the middle, but from the bottom of my heart, I am so grateful for this honor. It was a very moving and emotional experience for me," she said. "I certainly knew that it was going to happen, but I must say to actually see it, was so special."
Cole added, "With honor, comes responsibility and so when I learned that this honors residence hall would be named for me, I said to President Phyllis Worthy Dawkins that I would have to commit to helping to raise funds for scholarships for these honors students who live in that residence hall." So Cole said she "made an enormous commitment" to help to raise $1.5 million in scholarships. The students who receive the scholarships will be known as Johnnetta Betsch Cole honors scholars.
Tiffany Pennamon can be reached at tpennamon@diverseeducation.com. You can follow her on Twitter @tiffanypennamon.