Eight students from historically Black colleges and universities (HBCUs) have been selected to participate in an inaugural production internship program for a BET collegiate drama series.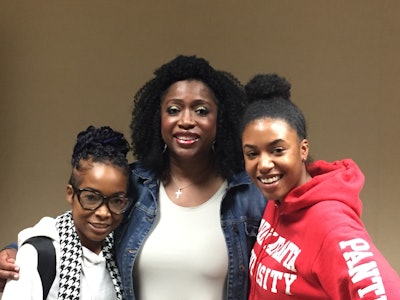 The Quad Internship Program, created by the show's executive producers Felicia D. Henderson and Rob Hardy, will provide the students with a paid opportunity to train in multiple departments during production of the series' second season.
Henderson, who is also an assistant professor in the Radio-Television-Film Department at the University of Texas at Austin, and Hardy created The Quad Internship Program with the intent of giving back to the community that the show's audience represents – HBCU students, specifically those interested in entertainment and production careers.
"We consider it an honor to help prepare the next generation of content creators by providing them with a window into the production process," said Henderson. "We're giving students with a passion for television production a chance to train with seasoned professionals."
Henderson wants the interns to take away two key things by the end of the season's production cycle: how many career opportunities there are for them behind the camera, and a responsibility that "one day, when they're all successful, they give back to the next generation of content creators," she said.
"I felt we had a responsibility to give these kids opportunities they wouldn't have if we weren't there," Henderson said. "When I met them, I knew we'd done a special thing."
Training for the interns will begin on The Quad's stages and locations around Atlanta later this month. Two internship cycles will each provide experience in writing, producing, cinematography, production design, location management, costume design, hair and make-up applications and the grip and electric departments.
Mykayla Williamson, a Spelman student selected to participate in the program, is excited to begin her first production internship aside from theatre and music performances in high school and her early college experience. She has aspirations of becoming a creative producer.
"It's always been a goal of mine to be involved in the production of Black media, so to receive this opportunity was almost not real to me because it's such an amazing opportunity," Williamson said. "There [are] so many giants on set so it's endless opportunities to develop a professional network, gain wisdom for such a competitive field and learn a standard of excellence for production even beyond The Quad. I look forward to developing while a part of this internship program."
The selective internship program received more than 250 applications for the eight openings available. The students selected are Maya Eaddy (Spelman College); Brandon Gilpin (Morehouse College); Nia Jones (Clark Atlanta University); Trishunda Mooney (Clark Atlanta University); Kirsten Danielle Owens (Clark Atlanta University); Quenten McNair (Clark Atlanta University); Denard Thomas (Florida A&M University); and Mykayla Williamson (Spelman College).
Henderson and Hardy's selection of the local HBCU students for the inaugural year of the internship program was only right, Henderson said, as the show is filmed in the Atlanta University Center – home to HBCUs Spelman College, Morehouse College and Clark Atlanta University.
"It's only fair that the students here get first opportunity," she said. "They have been gracious and understanding as we inconvenience their lives in our efforts to add authenticity to our show."
Trishunda Mooney, from Clark Atlanta, who has experience writing, directing and producing her own short film "Land of the Freed," said that she was shocked and excited after hearing that she had been selected for the internship program.
Mooney also has experience as a model and an actress, but it was as a production assistant for an earlier project where she fell in love with "the bigger wheels of creating a production," she said.
With The Quad Internship Program, she said that she hopes to acquire relationships with key people in the entertainment industry, to learn more about how to get projects into distribution and to learn how to move scripts from TV to screen among other things.
"I come to every project with a sense of learning something new," Mooney said, adding that because the internship allows the students to cycle into multiple production departments, she wants to learn something different from each person. "I'm ready to pick up as much as possible in each department."
For Brandon Gilpin, a Morehouse freshman, the program will be his first production internship. As an actor mainly for television pilots and short films, Gilpin expects to come away from the internship with the skill set of the show's crew members.
"I want to learn how to be a better director. I want to learn how to write a great script. I want to learn how to become a better actor," he said. However, Gilpin's main goal is learning the tools and skills indispensable to effectively create and run a show.
The Quad originally aired in February 2017 and follows Dr. Eva Fletcher, played by actress Anika Noni Rose, at the fictional, modern-day HBCU, Georgia A&M University. BET renewed the series for a second season in April.
Positive and realistic representations of HBCUs on television and in the media have played a large role in bringing visibility to the schools. Television shows like The Quad and A Different World and recent films like "Girls Trip" illustrate the nuanced lives of HBCU students and their graduates.
"There's been an endless debate of the value of HBCUs on the community and the success of [their] students after graduation," Williamson said. "The Quad highlights many social and economically relevant issues that we as students overcome on a daily bases. It's important that there's a positive and realistic narrative being broadcast on television for us."
The Quad's authenticity is bolstered by some of the writers and actors' own HBCU experiences. Hardy and Rose attended Florida A&M University and for this reason, a student from their alma mater was included in the internship program's inaugural year.
In addition to giving HBCU students an opportunity to learn the ropes about production, Henderson said that she hopes that The Quad will inspire a new generation of HBCU students.
Henderson plans for the internship program to expand every season that the show is renewed. The Quad's second season will premiere on January 23, 2018 on BET.
Tiffany Pennamon can be reached at tpennamon@diverseeducation.com. You can follow her on Twitter @tiffanypennamon.