Four members of Bethune-Cookman University's (B-CU) Board of Trustees resigned last week after a letter from the president of the university's alumni association circulated calling for the ouster of several board members due to the university's "current financial and academic crisis."
The four board members – former board chair Joe Petrock, Rafael A. Ramirez Jr., Michael D. Walsh and Nancy Lohman – resigned following the August 14 letter from B-CU National Alumni Association president Robert Delancy accusing the board of not acting in the best interest of the university. Observers believe additional board resignations may soon follow.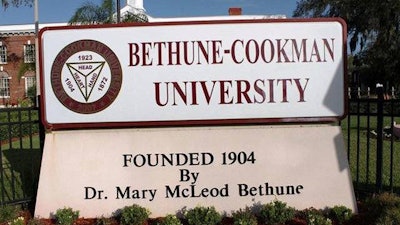 Along with current board chair Michele Carter-Scott, Kent Sharples and Jacob F. Bryan, Petrock is among the names explicitly listed in Delancy's letter. He explained that his resignation was due to frustration after "being unfairly blamed for B-CU's financial problems," according to the Daytona Beach News-Journal.
The former board chair instead blamed former B-CU president Dr. Edison O. Jackson for moving forward with a dormitory deal that will cost the university roughly $306 million over a span of 40 years despite the private, historically Black university's modest endowment. B-CU has since filed a lawsuit claiming corruption and fraud against Jackson and other former senior administrators involved with the dormitory deal.
"I wasn't the chairman when the housing project was presented and I wasn't on the executive committee," Petrock said. "I was just a member of the board. We weren't given all the information."
Delancy, a former Internal Revenue Service agent, was recently elected to serve as president of B-CU's National Alumni Association at the end of June. He said that even before his election, he and other alumni raised an alarm in 2015 about the financial implications of the dormitory deal, among other issues.
"We're just trying to save Bethune-Cookman University," Delancy told Diverse. "That's all I want."
Alumni concern about the board's actions stem from the decision of the Southern Association of Colleges and Schools Commission on Colleges (SACSCOC) to place the university on probation in June, Delancy said. This could affect students' access to federal dollars to attend the institution.
SACSCOC cited B-CU's failure to comply with accreditation standards in the areas of integrity, governing board characteristics, financial resources, financial responsibility and control of finances.
Alumni and some faculty are now seeking answers to how the board will satisfy SACSCOC accreditation requirements. "We see that as the biggest thing that we have to deal with. Our whole push is, do what we can to save the school," Delancy added.
In addition, a group of nearly 40 faculty, alumni and students assembled before an official board meeting on August 16 in protest of the board's handling of certain issues and reports that there would be salary reductions for faculty and staff furloughs.
B-CU's interim president Hubert L. Grimes said he is committed to keeping the institution open and accredited, even as the four board members departed.
"The university acknowledges the collective service of its Board of Trustees and the years of service of those trustees who recently resigned," Grimes said in an email. "We are at a critical juncture as a university where our focus must remain on decisions and processes that honor the vision of our founder, Dr. Mary McLeod Bethune."
Grimes continued: "As interim president, I remain committed to making us stronger financially, retaining our unique value as an HBCU, and addressing the challenges we face regarding maintaining accreditation and rectifying our financial constraints."
Financial struggles have plagued other historically Black institutions, many of whom face potential closures, inadequate federal or state funding and at times, a questioning of their value for students and the community, scholars say.
For students and alumni like Delancy, a 1979 graduate, a threat of B-CU's closure runs deep. Once the institution's doors are closed, Delancy does not see them opening again.
"That pains me," he said. "For anybody to allow this to happen … I cannot explain what that means to me."
Tiffany Pennamon can be reached at tpennamon@diverseeducation.com. You can follow her on Twitter @tiffanypennamon.