Howard University (HU) is launching a year-long campaign that will engage the campus community around issues of interpersonal violence and sexual assault prevention.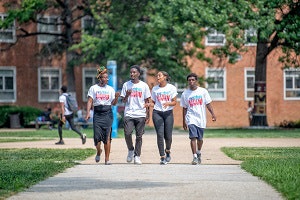 The "HU Stands" campaign kicked-off Wednesday with an event hosted by the Office of Title IX and other campus partners that brought students, faculty and staff to take a pledge to stand against interpersonal violence. Campaign partners also include the 1867 Club and the HU Student Association.
"We are committed to fostering and maintaining an academic and work environment that is free of sexual assault, sexual harassment, and other forms of interpersonal violence," said Howard University president Dr. Wayne A. I. Frederick. "Sexual assault against our students will not be tolerated. It is our duty as a campus community to make Howard University a safe environment for everyone and that begins with education and prevention."
Candi N. Smiley, Howard's Title IX coordinator, said starting this fall, students and others on campus will see a plethora of programming, trainings and opportunities for engagement from the Title IX office and the Interpersonal Violence Prevention Office.
According to Howard officials, HU Stands will educate all campus stakeholders and "deliver a strong call to action for the HU community."
Campaign programming will include education on:
· How to look for Interpersonal Violence,
· How to prevent Interpersonal Violence,
· What options and resources are available if one experiences Interpersonal Violence,
· How the Interim Title IX Policy deals with cases of Interpersonal Violence, and
· Ways in which members of the campus community can engage and pledge to 'take a stand.'
"Our Interpersonal Violence Prevention Office has already started hosting conversations with students in their residence halls and visiting student organizations," Smiley said. "Ultimately, we want everyone to be fully aware of their rights and the resources available to them during their time at Howard."
HU campus community members can learn more about HU Stands or take the pledge at HUStands.howard.edu.
Tiffany Pennamon can be reached at tpennamon@diverseeducation.com. You can follow her on Twitter @tiffanypennamon.