Bennett College has exceeded its $5 million #StandWithBennett campaign goal, raising $8.2 million in 55 days in the fight to save its Southern Association of Colleges and Schools Commission on Colleges (SACSCOC) accreditation.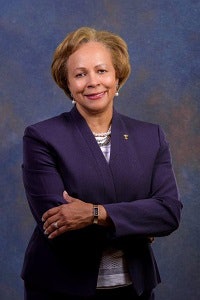 The miraculous fundraising effort – announced in a press conference Monday – was a testament to the determination and persistence of Bennett administrators, faculty, students and alumnae, faith-based and Greek organizations, foundations, celebrities, the business community and fellow higher education institutions, college leaders said.
Now, the private historically Black college (HBCU) will continue to focus on re-engineering the institution for long term sustainability as it approaches a decisive SACSCOC accreditation hearing later this month.
"The thought of losing her was more than one could bear. This has truly been a team effort," said Gwendolyn Mackel Rice, president of the Bennett National Alumnae Association. "Nothing can or will stop us now. For those who are privileged to serve Bennett, we will walk with you to do the work to serve, shape and stabilize Bennett."
Among the gifts that pushed Bennett over the $5 million-mark were two $1-million gifts from High Point University and the Kwanza Jones & José E. Feliciano SUPERCHARGED Initiative; four $100,000 gifts from Alpha Kappa Alpha Sorority Inc., BB&T, Dr. Kerry Ann Rockquemore and the Old Dominion Freight Line; and additional gifts from the United Methodist Church, Wells Fargo Bank and more.
"Those are the types of grassroots gifts that we've received," said Bennett president Dr. Phyllis Worthy Dawkins. "We appreciate each and every gift that we've received no matter how small or how large. What matters most is that every dollar counts towards our goal. What matters most is that people gave, and they gave from their heart."
At the time of the noon press conference, Dawkins said that financial contributions were still rolling in.
"Bennett College is eternally grateful to the more than 11,000 donors from across the United States," she said.
Although Bennett sought to raise $5 million by its February deadline, SACSCOC president Dr. Belle S. Wheelan said the agency did not give Bennett a specific amount that leaders had to raise in order to make an appeal for its accreditation. The institution, she noted, was initially removed for not demonstrating financial stability.
Dr. Larry L. Earvin, SACSCOC's chief of staff, said a committee will review additional financial resources and information that Bennett will present at its formal hearing on Feb. 18th.
"We can't make any [accreditation] determination before the appeal is heard before the committee," he said.
Over the next few years, a re-engineering committee consisting of business, data analysis, higher education and other professionals will assist Bennett leaders in positioning the college for long-term sustainability, said Dr. Gladys Ashe Robinson, Bennett Board of Trustee chairwoman.
Efforts to increase Bennett's endowment, recruit potential Bennett Belles and increase student retention rates include executing social media and other marketing campaigns and focusing on in-demand programs such as health sciences, technology and cybersecurity, leaders said.
At a press conference in January, Dawkins shared that the college had already accepted nearly 4,000 students for the fall. Admissions data indicated a 36 percent increase in the number of students admitted with a minimum 3.2 GPA, she said.
"We're about educating strong women that go out into the workplace," said Dawkins. "Women who lead with a strength that we cloak them in in leadership and sisterhood that complement the degrees they receive."
SACSCOC committee officials will review and assess their panel notes before issuing an accreditation decision to Bennett, Wheelan said. If Bennett's appeal is successful, the institution's SACSCOC accreditation will be reinstated.
The college will enter into a lawsuit with SACSCOC if the appeal is unsuccessful, and seek accreditation with the Transnational Association of Christian Colleges and Schools.
"There is a reason why Bennett was founded and there is a reason why Bennett must continue to sustain itself with both success and significance," said High Point University president Dr. Nido R. Qubein before presenting his university's $1-million gift. "'Belles' stands for brilliant, energetic, learned ladies with extraordinary significance!"
Miss Bennett College Brooke Ashley Kane similarly encouraged her Bennett sisters to cherish the school's icon for its symbolic representation.
"Belles are strong and they will never stop historically ringing," she said.
Tiffany Pennamon can be reached at tpennamon@diverseeducation.com. You can follow her on Twitter @tiffanypennamon.