Saint Augustine's University (SAU) alumnus Dr. Gaddis Faulcon is now interim president of the Raleigh-based university following the Board of Trustees' request for former president Dr. Everett Ward to step down last week, four months ahead of his planned retirement.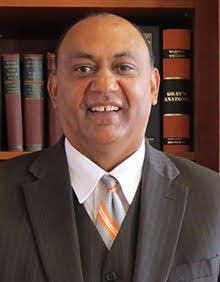 In response to questions about the nature of Ward's early departure, Board of Trustees chairman James Perry said in a news conference Tuesday, "We couldn't bring the interim in as long as the sitting president was here. You can't have two people sitting at the same seat."
Perry added that Ward's exit will allow Faulcon to begin formulating the institution's 2019-20 proposed budget, according to WRAL. In a statement on March 15, the Board made clear that Faulcon's appointment – "effective immediately" – coincided with Ward's retirement.
"At this time of significant positive momentum surrounding the next phase of the university's evolution, the Board of Trustees has determined there is a need to launch the formal transition and search process for the new president," said former Board chairman Hilton Smith in the statement. "We are pleased that Dr. Gaddis Faulcon, our 1974 alumnus, has agreed to lead our transition team. He brings the passion and previous experience serving in this pivotal role."
Faulcon told Diverse that the opportunity to serve as interim president is a "great opportunity for me to do for students what other people at this university did for me – nurtured me." He listed individuals such as Dr. Wiley M. Davis, Dr. Thelma Roundtree and Dr. Prezell R. Robinson as those who saw potential in him as a student nearly 50 years ago.
"I know there's greatness inside each and everybody, but it cannot come out unless you have some support, some mentoring, some help, some nurturing," Faulcon said.
In addition to expanding Saint Augustine's fundraising efforts, Faulcon is tasked with improving enrollment management and retention, which he noted is a "comprehensive university responsibility."
"The mission of the university is related to the students … so we will be very, very student-centered," he said. "That means I need to make sure that where students work, where students live, where they play is a nice living and learning environment."
As for fundraising, the interim president plans to engage board members, faculty, staff, alumni, students and also corporations and foundations, he said.
"You have to paint a story about the students being of value to be invested in, and then your academic programs have to be worthy of investment," Faulcon said, "and they are here."
Faulcon's appointment follows his service as the university's vice president of enrollment management. With more than 30 years of experience in higher education, he also served as interim president of Shaw University from 2014 to 2015.
He received his bachelor's degree from Saint Augustine's University and an M.R.R/M.P.A. and Ed.D. in higher education and public administration from North Carolina State University.
Faulcon said he plans to add to the "greatness" of the university and build on the success of his predecessor, Ward, who worked to bring the university back into compliance with its accrediting agency in December.
"All I'm here to do is add to what has already existed and move the momentum that is already here," he said. "We're off probation, so my task is to move momentum forward."
Tiffany Pennamon can be reached at tpennamon@diverseeducation.com. You can follow her on Twitter @tiffanypennamon.