Morehouse College—the nation's only historically Black all-men's school in the nation—will begin admitting transgender students who identify as men in Fall 2020.
Over the weekend, the school's board of trustees approved a Gender Identity Policy that will allow individuals who self-identify as men, regardless of the sex assigned to them at birth, to be considered for admission.
"In a rapidly changing world that includes a better understanding of gender identity we're proud to expand our admissions policy to consider trans men who want to be part of an institution that has produced some of the greatest leaders in social justice, politics, business, and the arts for more than 150 years," said Terrance Dixon, vice president for enrollment management at Morehouse. "The ratification of this policy affirms the College's commitment to develop men with disciplined minds who will lead lives of leadership and service."
Scholars who study HBCUs hailed the decision as a major victory.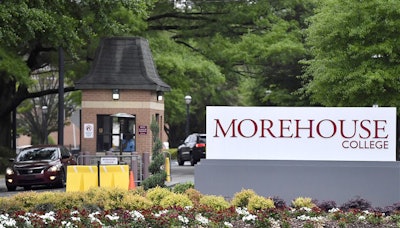 "While I applaud Morehouse for this bold and important step, and hope this will serve as an impetus for other HBCUs to do the same, I firmly believe that Morehouse's decision to accept trans men enforces the idea of what higher education is about—creating a diverse learning community in and outside of the class that foster students social and intellectual development," said Dr. Robert T. Palmer, department chair and associate professor of Educational Leadership and Policy Studies at Howard University. "Morehouse's decision will only strengthen the phenomenal education students already receive at this institution, and graduates will be even more prepared to enter the global workforce and have the ability to hold conversations around important, but yet sensitive topics, which is one the true marks of an educated man."
Palmer said that as Morehouse undertakes this initiative, the institution that counts Dr. Martin Luther King, Jr., Spike Lee, Samuel L. Jackson and countless other prominent Black men as alumni—will also offer diversity training to institutional stakeholders.
According to college officials, the new policy that was developed over a 15-month period, will ensure that once admitted "all students are expected to self-identify as men throughout their education at Morehouse." If a student transitions from a man to a woman "that student will no longer be eligible to matriculate at Morehouse."
Trans women, or "individuals who identify as women regardless of the sex assigned to them at birth, will not not be considered for admission."
David Johns, executive director of the National Black Justice Coalition (NJBC), a civil rights organization dedicated to the empowerment of Black lesbian, gay, bisexual, transgender and queer (LGBTQ) people, said that Morehouse's decision is significant given how socially constructed identities like male, Black and homosexual are used to divide families, deny access to public resources and spaces.
"Trans men are men, which is exactly why they should be supported in matriculating at Morehouse College," said Johns. "This is noteworthy, that we're making space for all Black people, especially important in Trump's America."