For Mary-Pat Hector, a 2019 graduate of Spelman College and national youth director for the National Action Network (NAN) since 13 years-old, tackling food insecurity on college campuses, growing youth entrepreneurship, sustaining communities, encouraging wellness and fighting for reproductive justice are some of the most salient issues she is addressing in this current moment.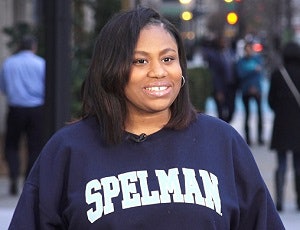 Although her work today is not centered around just one cause or issue, Hector acknowledges that her spirit of activism has blossomed out of her early work in her Stone Mountain, Georgia community to end gun and youth violence nearly a decade ago.
"I realized that I was attending more funerals than graduations, and I realized that people who I went to school with were becoming pregnant and dying," she recalls. "The only way to kind of resist that was to get involved or try to do something more positive."
At 10, Hector founded the non-profit Youth in Action USA, with early organizing calling attention to the fact that her community established a new jail at the time, but no new teen centers or spaces for youth to stay involved in extracurricular activities.
After initial outreach failed to yield a response from some community megachurch pastors and political figures, Hector and her group began calling the radio stations. Rev. Al Sharpton, NAN's founder, answered the phone on her line, Hector says.
"I was pretty much like, 'You say you're a community advocate, you say you're for the uplift and the betterment of people of color, so what are you going to do about people in my community dying in Stone Mountain?'" she says. "Within two hours, his local Atlanta chapter of National Action Network came to Stone Mountain. Ever since then, I've been super involved in community activism and organizing with National Action Network, but then also within my everyday life."
The Metro Atlanta native admits that engaging in community activism and organizing as a young person has its challenges.
"You're still not taken as seriously. You're still not heard and you still have to fight to have people listen to you," Hector says. "That was when I was 13, 14 years old. Now even being 21, I feel like that still happens to me."
Hector turned heads when she ran for a City Council seat in Stonecrest, Georgia at 19. One of her opponents, George Turner Jr., wrote a letter that questioned her eligibility to run because she was not 21. Members of the Dekalb County's Board of Registration and Elections held a hearing and eventually agreed to allow Hector to continue her campaign.
Hector attributes her drive and activism as a young person to not being afraid to "put yourself out there," adding that, she believes the opposite when people say, "your youthfulness is a liability instead of an asset."
"Right now, your youthfulness is an asset instead of a liability. You have an opportunity to fail at things," she counters. "You have an opportunity to resist things before you're tied down to a corporation or a job that silences you. Right now, you have freedom and you need to use that freedom. You have a voice and you need to use that voice."
As NAN's national youth director, she is working to give youth an opportunity to work on issues that directly impact their communities and that they're passionate about, she says.
Adding to Hector's early activism and her ongoing NAN work is her undergraduate experience at Spelman College, a historically Black college in Atlanta. She came to the all-women's college in 2015 with a voice in the community, but "Spelman matured that voice," she says.
Hector stayed involved in organizing and activism while in school. Her first year, NAN's Youth Division sent pallets of water to Flint, Michigan and distributed them to residents because they did not – and still do not – have access to clean water.
Later in her matriculation, the Comparative Women's Studies major led a nearly 50-person hunger strike that resulted in Spelman and Morehouse College students being able to receive free meals if they are commuter students.
"These were students who had meal plans who were literally foregoing food to bring awareness to the fact that, 'If my Morehouse brother or my Spelman sister is hungry, then I'll be hungry too,'" Hector says. "In that particular environment, people are afraid to speak out for fear of retaliation or just the AUC [Atlanta University Center] culture, where if you speak up, then you're shunned or you're 'doing too much.'"
With Hector leading the charge, NAN's Youth Division will soon embark on an HBCU tour that raises awareness around the issue of food insecurity on college campuses and also food deserts in wider communities. Hector similarly hopes that a NAN program that started at Spelman and Morehouse, which provided $1,000 scholarships to students in need, will expand to other HBCUs across the U.S.
Beyond this initiative, Hector will be aiming to grow NAN's youth membership, implementing initiatives that teach entrepreneurship and working to center Black women in the fight for abortion rights and reproductive justice.
"The fight against abortions seems so White-women centered right now," she points out, citing racial disparities in the U.S. maternal mortality rate. "Black women deserve a choice."