It looks like Cheyney University has turned a corner.
The historically Black institution that was once rumored to be on the brink of possibly shutting down amid concerns about the future of its accreditation recently announced that it ended the fiscal year with not only a balanced budget, but a surplus of $2.1 million.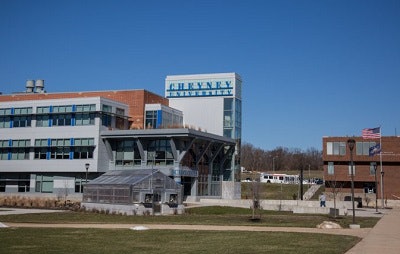 According to university officials at the nation's first HBCU, the school brought in $4.4 million as a result of its alumni "Resurgence" campaign. Additionally, the Pennsylvania Department of Education provided the university with a $2.5-million unrestricted grant.
In the past, the state-affiliated institution faced mounting debt to the sum of $43 million.
Back in April, Cheyney requested additional state funding to meet payroll through the remainder of the year.
Pennsylvania's governor, Tom Wolf, approved the request.
"Gov. Wolf has long supported ensuring a strong future for Cheyney," said J.J. Abbott, a spokesperson for Wolf.
News of Cheyney's improved finances comes at the right time. The Middle States Commission on Higher Education will decide in November whether the university can keep its accreditation. The school has already received two one-year extensions from the commission to address its finances.
Cheyney president Dr. Aaron A. Walton, who was unavailable for an interview, had told the Philadelphia Inquirer: "We are trying to dig ourselves out of years of negative performance, and we don't do that overnight. We are certainly pleased with the progress that has been made in the last two years. But we have much to do to make sure the university is on a firm financial academic footing for years to come."
Like many HBCUs, Cheyney has faced its share of challenges, including declining student enrollment and low graduation rates. It's plight is not all that unusual. Five HBCUs have shut their doors within the last five years.
Dr. Janelle L. Williams, a visiting scholar at the Center for Minority Serving Institutions at Rutgers University's Graduate School of Education, said she is elated by the encouraging news out of her alma mater.
"As an alumna of Cheyney, I am excited to see the institution making incremental, but significant, strides toward repositioning themselves for future growth," said Williams. "Yes, there is still a lot more to do, but with the right strategy and leadership, which I believe Cheyney has, the future is looking brighter."
This week, Cheyney received a $200,000 grant from the National Science Foundation's Historically Black Colleges and Universities Undergraduate Program (HBCU-UP).
The award will fund 13 Cheyney students from multiple disciplines to research audiovisual activity detection of people for a variety of applications, according to Dr. David G. Cooper, assistant professor of computer science.
Dr. Larry Walker, assistant professor in the Department of Educational Leadership at University of Central Florida and an expert on HBCUs, said Cheyney's resurgence is promising.
"The recent news regarding Cheyney's balanced budget and fundraising highlights the great work of president Walton, National Alumni Association and the Cheyney university foundation," said Walker. "Further, the improved retention rate proves the university is trending in the right direction. The collaboration between internal and external stakeholders has been critical to Cheyney's success."
At a recent forum at Delaware State University that included HBCU leaders, U.S. Rep. Dr. Alma Adams sounded the alarm on the importance of effective fundraising.
"Times are critical right now," said Adams, who previously served on the faculty at Bennett College, an HBCU in Greensboro, N.C. that also has faced re-accreditation obstacles. "Fundraising and getting the equitable funding that we need has been a problem."