Florida A&M University has embarked on a project to digitize and share footage of its historic band, the Marching 100.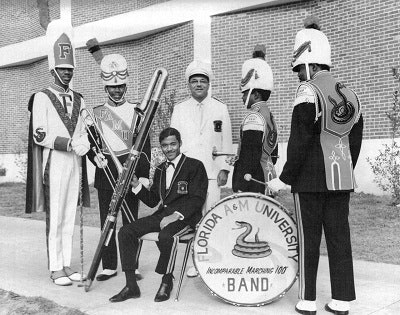 The effort is spearheaded by Dale Thomas, a Florida A&M University alumnus who graduated in 1986 with a degree in music education. He was able to save reels more than 65 years old. Now 30 videos are available to the public on YouTube, and clips of the band will be featured in a Black Entertainment Television documentary series called "We Own Homecoming."
Th project is funded by a grant from the Bernard and Shirley Kinsey Foundation for Arts & Education as well as alumni donations.
"Music has always been a part of the cultural history of Florida A&M University since 1887 and the Music Department, with its various musical ensembles, has helped to establish that culture," said Thomas, who formerly worked as a music librarian for Florida A&M University and writes about band history. "Collecting, preserving and making these historical and archival materials easily accessible, is important for the legacy of the programs."