Several of Congresswoman Alma Adams' (NC-12) equity-oriented higher education priorities are included in the FY21 Omnibus spending deal, including her bill, The HBCU Capital Finance Debt Relief Act, which cancels over $1.3 billion in debt held by historically Black colleges and universities (HBCUs).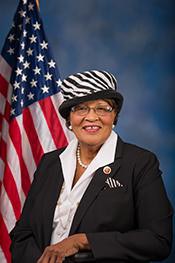 According to Adams' office, the bill also includes "the largest expansion of the Pell Grant program in a decade," potentially resulting in hundreds of thousands of newly eligible for Pell Grant recipients. The bill will also restore Pell Grant eligibility for incarcerated individuals and for students defrauded by their institutions.
Additionally, the bill streamlines the Free Application for Federal student Aid (FAFSA), making it easier for students to apply, and it eliminates a restriction limiting eligibility for subsidized federal loans among low-income students.
"This year's omnibus empowers students by expanding and simplifying the federal student aid programs, and by removing barriers for low-income and justice-involved individuals," stated Adams. "Additionally, I'm proud to announce the inclusion of my legislation, H.R. 7380, the HBCU Capital Finance Debt Relief Act, which relieves over $1.3 billion in debt for our HBCUs, allowing these institutions to continue their mission of empowering communities of color. Combined, these measures will help ensure that higher education continues to be an accessible bridge to the middle class."
H.R. 7380 was endorsed by the United Negro College Fund (UNCF), the National Association for Equal Opportunity in Higher Education (NAFEO) and the Thurgood Marshall College Fund (TMCF).