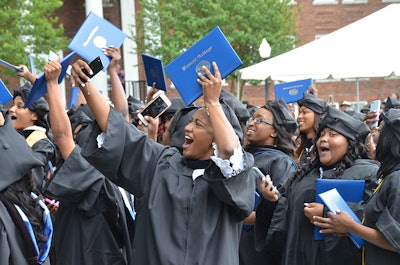 As the pandemic carries on, Bennett College, an historically Black, liberal arts college for women, has been selected as a 2022 Steelcase Social Innovation Fellow to develop a mentorship project among students and alumnae eager for community and support in their careers.
"Bennett has a history of sisterhood, and we wanted to enhance that a bit," said Joan Williams, Bennett's director of library services and one of the project's team leaders. "Especially with the pandemic and people being so separated, we wanted to re-spark that sisterhood, to bring the family back together. Because that's kind of the way we are here on campus: a family."
As one of ten fellows chosen this year, Bennett joins a cohort of institutions and organizations that will receive training and support over four months for a project. Fellows' projects are focused on support systems for students who are transitioning to higher education or a career. Steelcase, a global furniture, architecture, and technology company, supports the fellowship.
"Welcoming our new cohort of Social Innovation Fellows is a privilege and a pleasure," said Adam Weiler, social innovation manager at Steelcase, in a press release. "We are thrilled to support this exciting group of educators and changemakers who bring a blend of powerful ideas and problem-solving talent to some of the most important equity issues in education of our time."
In October 2021, Bennett joined Steelcase's Equity in Education Challenge, which included a series of open innovation workshops. Participants were asked to formulate ideas on how they can tackle barriers to a quality education through reimagining student support systems. Williams and her team at Bennett envisioned building a mentorship program for students and alumnae, including young alumnae just starting their careers. They titled the project "Reimagining Student and Alumnae Relationships."
"We want our students to go into the job marketplace understanding they have people behind them as they traverse any challenges," said Williams. "Because we as Black women — and as women period — have to deal with many challenges. The glass ceiling has not broken yet."
Bennett submitted this idea from the Equity in Education Challenge to a panel of industry experts to be considered for the fellowship. As a new fellow this year, Bennett will now have access to virtual workshops and guest lectures to troubleshoot any challenges that may arise in the early stages of bringing this project to life.
Williams said that several alumnae and students have already voiced excitement to her and her colleagues over the project's possibilities. Thanks to virtual meeting technology, Williams also stressed that "nobody will be left out" who wishes to be a mentee or mentor.
"The fact that everybody has been so separated has helped us get this idea off the ground," she said. "Some students started here in the pandemic and have not fully experienced the real sisterhood of Bennett. We want them to have more of a connection. If we build and sustain this project, I think it will only grow. And it will be a marvelous adventure."
Rebecca Kelliher can be reached at [email protected]