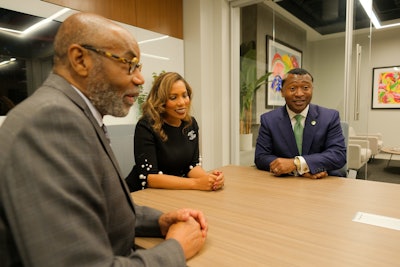 From May 31 to June 2, scholars, practitioners, industry leaders, and administrators seeking to strengthen historically Black colleges and universities (HBCUs) will gather at an inaugural convening in Charlotte, North Carolina. Diverse is a media sponsor.
Titled "Ideation, Innovation, & Collaboration: The Future of HBCUs," the convening will tackle what self-agency and sustainability at HBCUs can look like.
The Higher Education Leadership Foundation (HELF), which focuses on fortifying HBCU leadership, organized the convening in response to the greater national attention on HBCUs yet the existential pressures that many still face.
"I think now is an inflection point for HBCUs just as America and, quite frankly, the globe has been dealing with the murder of George Floyd and the pandemic," said Dr. Herman J. Felton, president of Wiley College, a private HBCU in Texas, and co-founder of HELF. "This moment brings into focus how acutely fragile things are, can be, and will be—and to that end, you begin to think how our institutions will be prepared for the next chapter in their lives."
For Felton, the idea to organize this convening came after learning HBCUs received almost a billion dollars in private funding since 2020. But the vast majority of those funds went to just about a dozen HBCUs despite the more than 100 HBCUs that are educating some of the country's most underserved students.
"It made me think about the other HBCUs who have not been in a position to receive gifts, be they transformational or supportive, and I juxtaposed that with the public perception that all HBCUs have had a windfall recently—when the reality is that they haven't," said Felton. "And the other reality is that none of us is really safe with the decline in state funding for our institutions and the enrollment cliff. Kids are simply just choosing not to go to college."
He noted that the purpose of the convening is to amplify such conversations in the HBCU community.
"This is a gathering that was convened by us, for us, and about us," he said.
Participants can register online. A couple hundred people have registered so far. With more than 75 speakers signed up for the gathering, participants can join sessions in specific tracks, from athletics to institutional advancement to student affairs and enrollment. Scholarships are available for those who may be unable to afford the registration fee.
"This is about us thinking of ways to do transformative work—and how institutional advancement can impact that," said Dr. Marc Barnes, vice president of institutional advancement at Dillard University, a private HBCU in Louisiana, and chair of the convening's institutional advancement track. "We'll talk about how to think bigger and more creatively. How to create new, sustainable models to increase major gifts and alumni giving. And how to better tell our institution's story."
Barnes added that many HBCUs struggle with recruiting and retaining fundraising personnel. The average development officer at most HBCUs stays about two years, he pointed out. A field like fundraising depends on relationship building, so that turnover makes it tough to develop lasting donor and alumni ties.
Yet Barnes said the convening's ideation model aims to bring institutional advancement leaders together to problem-solve.
"This is not a typical professional development session," said Barnes. "This is not about sitting and listening to panelists but about a group of people sharing their experiences. We're all coming in as experts. We want people to bring their own level of genius to this."
Dr. Davida L. Haywood, vice president for student affairs at Johnson C. Smith University, a private HBCU in North Carolina, chairs the convening's student affairs and enrollment track. She pointed out that the last few years in the pandemic amid steep enrollment declines have been especially taxing for student affairs professionals.
"A lot of the tough work of safely navigating students' experiences in the pandemic fell onto my colleagues' shoulders, from health services to residential life to food services," Haywood said. "I offer that because our sessions will go back to the basics."
In her track, sessions include how data collection can inform program decisions to meet student needs. Participants can also learn ways to leverage social media to make HBCUs more visible. Another event will grapple with how student affairs personnel can practice self-care and create boundaries in their demanding jobs.
To Haywood, this convening arrives at an opportune time.
"It is needed, it is warranted, and it will probably be a space for many folks in student affairs to exhale," she said. "We've also seen the enrollment trends ebb and flow. So, this convening will be critical as HBCUs figure out what's next. And coming out of this, there will be work: white papers and policy advisories to ensure HBCUs' survival."
About a month after the convening, Felton said that a report on the gathering will be released to inform policies as well as funding opportunities to support HBCUs.
"The desire is to ensure all of our institutions are privy to the same information and are able to take advantage of organic conversations that, I believe, when held in earnest, will benefit each institution, thereby strengthening the overall sector," said Felton. "I've not done empirical studies on a singular institution, but one doesn't need to do a dissertation to know that we have the capacity to be better. It's exciting."
Rebecca Kelliher can be reached at rkelliher@diverseeducation.com.