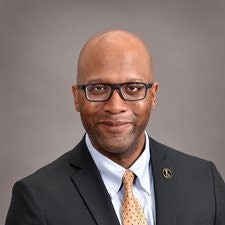 Less than a year after a tumultuous leadership shift at West Virginia State University (WVSU), one of the nation's public historically Black colleges and universities (HBCUs), the institution's board of governors has unanimously selected Ericke S. Cage as its new president.
"I look forward to building on the work we have already started and the success we have achieved in moving WVSU forward," said Cage in a statement on the announcement. "As I have said since my arrival, I am convinced that the university's best days are yet to come, and I look forward to working with the campus community to make that a reality."
Since September 2021, Cage has been WVSU's interim president following the resignation of its prior president, Dr. Nicole Pride in July 2021, after less than a year in office. As Diverse reported, WVSU staff had voiced work environment concerns under Pride's leadership.
"One of the things I like about this news is that President Cage was interim president before," said Dr. Robert T. Palmer, an associate professor and department chair in the department of educational leadership and policy studies at Howard University. "So, he had some time to familiarize himself with the institution and its culture as well as develop a healthy, positive relationship with the board."
In July 2021, Cage joined WVSU as vice president and chief of staff. The board of governors appointed Cage as chief operating officer on July 30, 2021 around the same time as Pride's resignation.
Under Cage's leadership as interim president, WVSU has received more state funding for its land-grant programs. In addition, WVSU was recently awarded a more than $700,000 grant from the Kanawha County Commission to launch a Cybersecurity Innovation Center at the institution in fall 2022.
Prior to WVSU, Cage was the executive advisor to the president and board of visitors at Norfolk State University, a fellow public HBCU. There, Cage authored a $2.7 million grant proposal to support student access.
Palmer, who researches HBCUs, noted Cage's familiarity with HBCUs in addition to his fundraising success, as evidenced of a promising pick.
"What we notice about HBCU leadership is that boards have a tendency to recycle presidents," said Palmer. "So, one person may have been let go as president from one institution, then that person is picked up by another institution. But here, we don't see that."
Dr. Felecia Commodore, an assistant professor of educational foundations and leadership at Old Dominion University, also researches HBCUs and governance. She said that higher education institutions in general, not only HBCUs, have recently been grappling with more leadership challenges.
"It's been a rough time for university presidents at all institutions," said Commodore. "We've seen a lot of resignations in the past couple of years in addition to the strain of COVID. More than ever, institutions and their stakeholders are looking for leadership that signals sustainability."
At WVSU, Commodore noted that the workplace concerns raised under the prior president further highlight the need for new leadership to tackle higher education's so-called great resignation.
"What will be important not just for this incoming president but any other presidents is to take very seriously the need to create workplace conditions in which all employees feel valued and safe," said Commodore. "With the ways in which various people in higher education have gone above and beyond to keep our institutions running, I think it's critical for anyone rising in leadership at this time to be adamant about the practice and culture of shared governance."
Commodore added that leaders will likely have to work more collaboratively with faculty, staff, students, and other stakeholders. Cage's experience suggests that he has these skills, she noted.
"I think we're seeing a trend across higher education, particularly with some of the decisions regarding COVID, where many stakeholders feel like decisions are being made about their lives without them getting a seat at the table," said Commodore. "If we're going to move forward in our next great era, it's going to be important to provide stakeholders with more voice and access to power."
Palmer added that university presidents tend to serve in their positions for five or six years. Based on Cage's qualifications, however, Palmer voiced optimism that Cage may go the distance at WVSU.
"No one can project what the future will hold," said Palmer. "But hopefully this is someone who will be at the institution for a relatively long amount of time and will have the chance to do some good."
Rebecca Kelliher can be reached at rkelliher@diverseeducation.com.