On Friday at the 31st annual National Action Network (NAN) convention in New York City, a panel of alumni, students, and advocates of historically Black colleges and universities (HBCUs) weighed in on what makes these institutions stand out as the country increasingly recognizes their value.
NAN is one of the country's leading civil rights nonprofit organizations founded by the Reverend Al Sharpton. The convention's Friday panel came a day after the Senate confirmed Ketanji Brown Jackson to the U.S. Supreme Court and made history. Jackson will be the first Black woman to serve on the highest court in the land.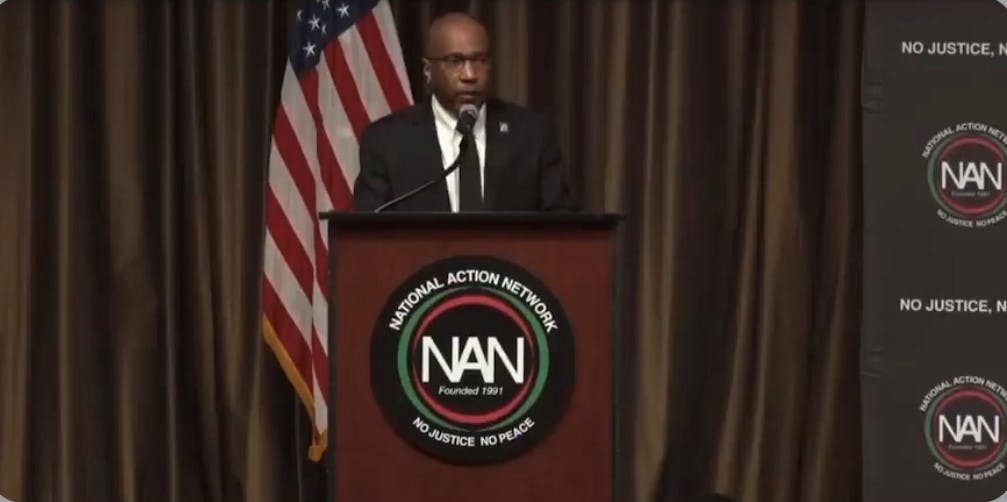 Dr. Harry L. Williams, president of Thurgood Marshall College Fund
"There would be no Ketanji Brown Jackson if it were not for HBCUs," said panelist Dr. Harry L.  Williams, president and CEO of the Thurgood Marshall College Fund (TMCF), a nonprofit that supports students at 37 member schools, including public HBCUs. "Both of her parents went to HBCUs. And there would be no Thurgood Marshall if it were not for HBCUs."
Marshall, the late Associate Justice of the Supreme Court, was a two-time graduate of HBCUs. With Jackson's ascension to the Supreme Court this week, Williams spoke of the importance of these institutions to civil rights and to "shaping the Black middle class as we know it today."
"The Thurgood Marshall Fund has been thriving recently because people have been looking for ways to support Black people," said Williams, who is also the former president of an HBCU, Delaware State University. "And I'm going to say that we owe a major debt of gratitude to George Floyd. It put a spotlight on disparities in our communities. We've been getting calls from corporate America saying, how can we help?"
That spotlight has boosted enrollment rates at some HBCUs, noted the panel's moderator, Dr. Jamal Watson. But alongside this promising trend, several HBCUs recently grappled with bomb threats starting in February, which is Black History Month.
Follyvi Dossa, a panelist and student at Morehouse College, an all-male HBCU, recalled how that "dark time" on campus ended up bringing students together.
"What I appreciated was that we could all call on each other to make sure we were okay," he said, referring to contacting students at neighboring HBCUs that also got bomb threats. "You can only get that community at an HBCU. Overall, our spirits are high. You can't break us."
Tylik McMillan, NAN's national director of youth and college, echoed Dossa and thought back on his own experience as a recent graduate of North Carolina Agricultural and Technical State University (NC A&T), a public HBCU.
"We all have this pride for our individual schools, and we may have a friendly rivalry, but we have this love of one another that makes us protective of each other," said McMillan. "There is community because we have this sense of belonging."
Fellow panelist Dr. Marquez Ball, an HBCU graduate and pastor, recalled learning about the bomb threats at Morehouse when his son, a current Morehouse student, called him. But the calm tone of his son's voice stood out.
"I didn't sense fear," said Ball. "The reason why is because he's insulated among his own. We look out for each other. That may have felt different on another campus where my son may have looked like the threat. But at Morehouse, he looked like one of us. The other thing is, these bomb threats show that we're doing something right."
Ball and Williams noted that philanthropist MacKenzie Scott gave more than half a billion dollars to 23 HBCUs in roughly the past two years. These donations came unrestricted, which is unusual in philanthropy. The HBCUs could decide how to spend the gifts. 
"And she was unapologetic as to why she was giving—she made it very clear that she wants to support excellence," said Williams on Scott. "We've never had that before, unrestricted gifts of that size. She said you know what is best for your institution. That is why these haters are out there. They're seeing that this giving is coming not only from her but others, too."
Looking ahead to how federal policies can support HBCU students, McMillan stressed that student debt cancellation is key. He explained student debt is a racial equity issue, and he referred to his advocacy work at NAN in calling on President Joe Biden to take action.
"Many students think that going to school means they can get ahead in life, but the reality is that a lot of students can be drowned in student debt," said McMillan. "Canceling student debt is a way to close the racial wealth gap. So, we continue to urge the president to stop student debt so that we can do more."
Rebecca Kelliher can be reached at rkelliher@diverseeducation.com.