Although colleges and universities have increased their debt over the past several decades, they appear well-positioned to manage it, according to a new report from Ithaka S+R, the research arm of the educational access non-profit. However, the picture of debt differs by category of institution—particularly at HBCUs.
The report combined analysis of financial data and interviews of college CFOs, with a particular focus on how schools have responded to times of crisis, such as the Great Recession of 2007-2009 and the COVID-19 pandemic.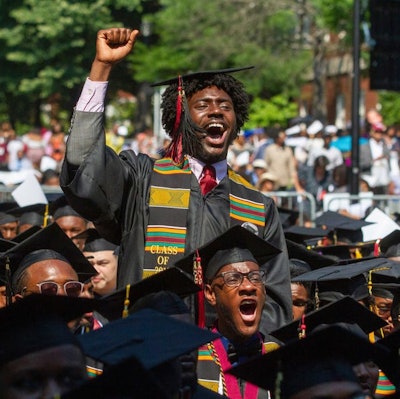 It found that colleges that were highly leveraged—carrying large amounts of debt relative to their assets—prior to the Great Recession generally did not have to take on even greater debt, and that schools that borrowed more did so for strategic reasons, rather than out of desperation. This additional debt did not seem to impact these schools' ability to serve students—the percentage of their total spending used for educational and related costs (E&R) went up over time.
Using the lessons of the Recession, many schools have been able to turn the COVID-19 pandemic into an opportunity to solidify their financial futures. Colleges initially paused capital projects and borrowing in order to assess the landscape. But after seeing that enrollment was holding steady and receiving federal aid, many schools took advantage of low interest rates to refinance their debt, or to finance the construction of new campus facilities.
However, debt differed at HBCUs, both quantitatively and qualitatively. During the Great Recession, HBCUs were seven to 11 percentage points more likely to rapidly increase their debt than non-HBCUs, without a corresponding increase in the value of their assets. The purpose of this borrowing may have been more elemental—meeting payroll and keeping the lights on. And the costs of the debt may have impacted students—HBCUs that borrowed more during the Great Recession had a lower percentage of spending on E&R in subsequent years.
This contrast is a result of the financial precarity of many HBCUs.
"For HBCUs, a lot of times the net tuition that they actually receive from their students is not as high as to cover their costs," said Dr. Omari Swinton, chair of the department of economics at Howard University. "Black students tend to have less money and so they're less likely to be able to pay for tuition out of pocket."
Black students have also experienced harsher economic and health consequences from the recession and the pandemic, further impacting their ability to pay. However, the deeper underlying cause of the financial difficulties is a long history of disinvestment and underfunding.
As early as 1890, many states refused to match federal funds provided to Black colleges, as required by law. This inequity persists today: a 2022 analysis by Forbes found that HBCUs have been underfunded by at least $12.8 billion over the last three decades compared to their predominantly white peers.
The very difficulties that drive HBCUs to debt also make it harder for them to borrow money on as favorable terms as predominantly white institutions.
"HBCUs have had a harder time getting loans generally," said Dr. James Dean Ward, a senior researcher at Ithaka S+R and an author of the report. "And when they do, they often face higher interest rates. So, borrowing becomes more expensive for them."
"That basically takes money away from students," said Swinton.
Last year, cash-strapped HBCUs did receive a ray of hope. In April, the Department of Education discharged over $1.6 billion in capital finance debt for 45 HBCUs. For some schools, the impact was major.
"We had about $55 million in capital financing debt [with] $5 million a year on interest payments canceled overnight," said Dr. Andrew J. Douglas, a professor of political science at Morehouse College. "We had gone from furloughs and austerity to faculty raises [and] merit pay. It was like night and day."
However, Douglas cautioned that Morehouse, a well-known private HBCU that has received large private gifts in recent years, may be an outlier.
"I'm not optimistic about the future," said Douglas. "If you take a broad view of HBCUs, there's a worry that we're on the cusp of a consolidation. I think we're going to see a separation between schools that are viable in this environment and those that are not."
According to Douglas, without a plan to adequately fund HBCUs long-term, more trouble might be on the horizon.
"We desperately need a national strategy to rebuild higher education and the financing model that undergirds it," said Douglas. "If we can avoid debt and just get public funding, that would be far superior. My hope is that with student debt cancellation at the forefront of public consciousness, we can really begin to have a new conversation about how we finance higher ed."