Almost two weeks after the water pressure dropped in Jackson, Miss., things are slowly returning to normal.
The water crisis, moving in slow motion for decades thanks to the city's crumbling infrastructure, came to a head on August 30 when heavy rains caused the Pearl River to overflow its banks and cut service to the city's main water treatment plant. Jackson was already under a boil-water advisory—now, many residents could not get anything from their tap, and location and luck played huge factors in who experienced the most impact.
For institutions of higher education in the area, this was yet another emergency to confront after two years spent managing a global pandemic, and some of those lessons would come in handy. When low water pressure meant no air conditioning, no working toilets and no water fountains in buildings on campus, virtual classrooms were ready and waiting.
At Jackson State University (JSU), a Historically Black College and University (HBCU) located barely a mile away from the river, impacted students living off-campus were faced with a choice: go stay with family outside of Jackson or rent hotel rooms at their own expense. Students who lived on campus used portable showers and toilets, cooling themselves with fans when temperatures soared to well over 90 degrees Fahrenheit.
Just a five-minute drive away, Mississippi College's (MC) College of Law, its branch campus in Jackson, prepared for the worst but experienced a completely different outcome. As the water pressure dropped in the city, Dr. John P. Anderson, interim dean and professor of law at MC, said his building's toilets and faucets stopped working on the fourth floor, then the third, then the second. Eventually, only the toilets and faucets on the first and basement floor were operational.
"We were just lucky to be closer to a source of [water] pressure. Some of the locations downtown were further down the line from the original source," said Anderson.
Anderson said MC had ample warning that the Pearl River was going to flood, and the school prepared for students who might be displaced. Plans for alternative housing at MC's main campus in nearby Clinton, Miss., were made, but never needed.
MC's students were invited to student services to pick up bottled water and hand sanitizer as needed. MC partnered with the YMCA so students could shower at their facilities, and laundry services were set up on the main campus. MC's Black Law Student Association rallied to pull water donations from alumni and other organizations, and those supplies have gone not just to the MC student body but the surrounding communities.
"We were lucky in that we maintained sufficient water pressure to be able to have persistent use of our HVAC, we were able to maintain in-person classes, and water pressure was fully restored after just one week," said Anderson. "We still have to use bottled water for drinking. Tthey haven't yet cleared the boiled water notice."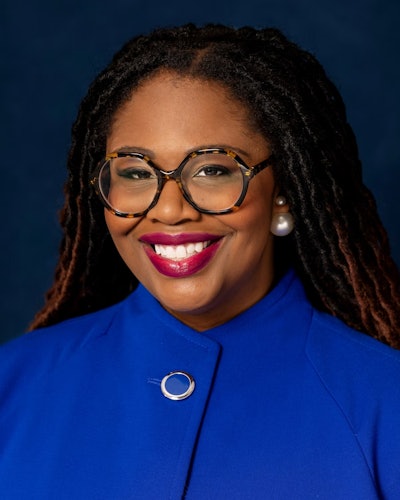 Down the street from MC College of Law, luck seemed to run dry for JSU. Dr. Fran'Cee Brown-McClure, vice president for student affairs, said that the entire JSU student body was impacted by the water crisis, whether they lived on campus or not.
"Jackson is mostly Black, and areas most impacted are communities of color and lower income," said Brown-McClure. "Those are the communities that surround JSU, where some of our students grew up, where their families are."
Some students, faculty, and staff homes were flooded by the Pearl River. Others saw the rising waters destroy their cars. JSU moved online while the pressure was low, so students who chose to leave the city would not miss out on classes. JSU connected with outside water sources to keep their dining hall open.
"The difficulty is we didn't have the capacity to say to off-campus displaced students, 'Come on campus,'" said Brown-McClure. "Those students had to make decisions to go home or stay in hotels."
Staying in a hotel came at the student's own expense, something that Brown-McClure said JSU is working hard to offset through generous donations from alumni, community members, and various companies across the country who have reached out to help. But more is still needed.
"The amount of costs associated with staying in a hotel for a week and a half, multiplied by the total number of students—we just can't resource it for every student," she said.
Brown-McClure added that she is worried for her students, particularly juniors and seniors who, for almost the whole of their four-year education, have been confronted by crisis situations, from COVID-19 to water shortages.
"There is absolute concern for the mental health and wellbeing of our whole community, faculty and staff," said Brown-McClure. "No college student should have to deal with or focus on that. They should be thinking about the amazing opportunities coming, preparing themselves for the real world."
Yet these students, she said, will enter the post-college world having experienced the real effects of a community pulling together. Students have participated in neighborhood water-drives and experienced the uplift of alumni and strangers coming to their aid. Students who may not have had an interest in politics now had a chance to directly interact with politicians who visited their campus during the crisis.
"Even in the midst of this, we're still providing opportunities for students to learn, develop, and grow," said Brown-McClure. "I just want to emphasize the magic of the institution—that we still continue to thrive."
Liann Herder can be reached at lherder@diverseeducation.com.