St. Augustine's University is on probation again with its accreditation agency due to financial reasons, The News & Observer reported. To note, the school will remain fully accredited while on probation because it is being "continued in accreditation for Good Cause and placed on Probation."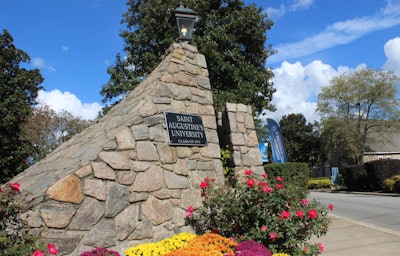 The Southern Association of Colleges and Schools Commission on Colleges (SACSCOC) decided to put the historically Black college on university on probation for one year, after its board of trustees determined the school failed to comply with accreditation requirements regarding finances, governing board characteristics, and federal and state responsibilities.
The school had been "on monitoring" for two years, the maximum consecutive monitoring period, according to the agency. This move is SACSCOC giving St. Augustine an extension "for good cause" due to the school showing significant recent strides in addressing non-compliance and evidence that deficiencies will be addressed within a year.
SACSCOC will review the school again in December 2023. St. Augustine was previously on probation between 2016 and 2018 due to financial issues and institutional effectiveness doubts.
"During the last two years, we have taken unprecedented action to protect and advance the fiscal health of Saint Augustine's University," St. Augustine's President Dr. Christine Johnson McPhail said in a statement. "These efforts are reflected in the significant progress in areas such as increased enrollment, increased alumni and employee giving, increased grant activity, increased endowments, reduced student debt, improved upward mobility of graduates, and year-end balanced budgets. In addition, the University has increased the number of student internships, external partnerships, and strategic partnerships and alliances. While we are disappointed with the decision made by the SASCOC Board, we are not discouraged; the entire SAU community has renewed our commitment to fulfill our vision and stay the course to complete our mission."
According to the school, student financial aid will not be affected.