Two Morehouse University juniors were killed in a car crash on Labor Day, the school confirmed.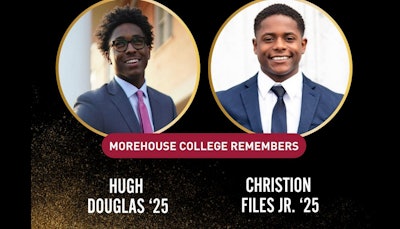 Hugh Douglas and Christion Files Jr., friends and sophomore-year roommates, were driving when their car left the road after passing another car on a curve. The car hit a utility pole, rotated, hit another utility pole, and overturned, according to the Georgia State Patrol. Both students died at the scene of the crash.
Douglas, the son of former NFL star Hugh Douglas, was a business administration student. He was a member of the Morehouse Business Association, an AltFinance Fellow, and a Goldman Sachs Fellow. This past summer, he interned at the Ares Management Corporation in Los Angeles. In a memorial post on Facebook, Morehouse described him as "an exceptional student who displayed immense dedication and promise."
Files Jr., who was driving, also studied business administration. He was a co-captain of the track and field team, media chair for the junior class council, and a member of the Morehouse Business Association. Morehouse described him as known for his photography and videography skills, noting that he created content for students, campus organizations, Morehouse Athletics, and the college's marketing office.
"During these difficult times, we must come together as a community to remember and celebrate the lives of Hugh and Christion," Morehouse wrote on Facebook. "They leave a legacy of excellence, passion, and dedication that will continue to inspire us all. We extend our deepest condolences to the families and friends of Hugh and Christion. Our thoughts and prayers are with them during this incredibly challenging time."
Grief counselors will be available for students, and details of a memorial will be announced shortly.