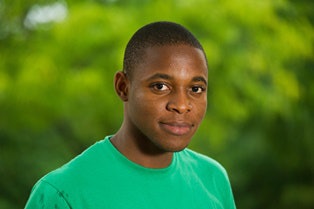 When Emmanuel Abu arrived in Huntington, West Virginia, from his native Nigeria to begin college at Marshall University last fall, everything seemed to have been planned out to ensure a smooth matriculation.
A representative from the college picked him up at the airport. Like other international students, Abu's orientation lasted several days. He received an extensive tour of the campus that made him feel comfortable and intimately familiarized him with it.
­Through a special program for international students, Abu received comprehensive support that helped him to successfully acclimate to an American college classroom.
"It helped me in all ramifications," says Abu, a rising sophomore majoring in public health. "It helped me settle down as a student. It helped me adapt to the American way of living. It also helped me blend in academically."
Such comprehensive programs, typically partnerships between universities and private for-profit companies, are increasingly commonplace. Most of the partnerships are holistic, designed to enhance the success of international students by ensuring their academic, housing, assorted student services and other miscellaneous needs are met adequately.
For decades, U.S. colleges and universities have invested heavily in recruiting international students. Now the next step is focusing on retention.
At least 15 institutions have forged partnerships with private for-profit companies that provide bridge services to foreign students. Besides Marshall, other universities include Colorado State, the University of South Florida and Drew University. Some of the for-profit players include companies like INTO University Partnerships and Navitas, two firms that have been doing the same kind of work in English-speaking countries like the United Kingdom and Australia for years.
The trend is driven in part by the steady growth of international students at American universities. A record 800,000 international students now attend college in the United States, according to a 2013 Open Doors report from the Institute of International Education. According to the data, 5 percent of U.S. institutions educate 69 percent of international students. As the demand for U.S. degrees rises in countries like China and India, and as the pool of college-bound high school students continues to shrink, more colleges are working harder to entice international students and to ensure that they are successful academically.
Benefits of partnerships
Mary Jane Miller, chief operating officer of INTO University Partnerships, North America, which has partnerships with six universities in the United States, says partnerships with organizations like INTO help universities be strategic in their approach to diversifying their campuses and integrating international students into the university culture. Most importantly, she says, they help students academically so they can be successful in the classroom.
James Fuller, a spokesman for Navitas, which has partnerships with five U.S. universities, including Western Kentucky University, the University of New Hampshire and the University of Massachusetts Boston, says these trends are driven by a stronger desire to internationalize U.S. campuses.
Fuller adds there is also a greater recognition that, in a globalized world, U.S. students benefit from interacting more with international students.
That's the thinking at schools like the University of South Florida. Its 48,000 students are spread across three campuses in Tampa, St. Petersburg and Sarasota, with the bulk of students based in Tampa. USF Provost Ralph Wilcox says the percentage of international students is 6 percent. He says the university aspires to increase this percentage to 10 percent by 2018.
"We recognized that, to better serve the needs of students at USF, we were going to need to better prepare them for success in the global marketplace," says Wilcox. "We saw tremendous value in bringing the world to USF. [Our student population] was 96 to 97 percent of the state of Florida. We want to incrementally add greater geographical diversity from around the United States and around the world. ­That's important to both the quality and relevance of the USF experience."
At Colorado State University, international student enrollment has spiked by 69 percent in the last five years, according to Dr. Jim Cooney, the university's associate provost for international affairs. International student enrollment at Marshall, which currently hovers at 3 percent, is rising, says Matt Turner, chief of staff to the university president. Turner says the percentage has grown significantly in recent years as the university works aggressively to attract graduate and undergraduate international students.
Ensuring success
To increase the likelihood of success for this growing pool of international students, universities recognize they have to put strategies in place.
The nature of the programs developed between the universities and private for-profit companies varies. At Colorado State, the partnership with INTO has three categories. ­These include a Pathway program for fully matriculated students who receive regular academic credit, a traditional English as a Second Language program in which students are oriented to receiving credit and a general English program for non-matriculated students.
International students are not automatically enrolled in a specific program. School officials base their decisions largely on English proficiency, which is often linked to their performance on the Test of English as a Foreign Language, or TOEFL, a standardized English language proficiency exam. USF offers two options for students: a one-semester or a two-semester program depending on English language proficiency, according to Sean Gilmore, deputy center director of INTO's USF hub. But officials at several universities stress that academic preparation for international students extends beyond English proficiency.
Other issues addressed include help with time management skills, study skills, juggling a large academic workload and understanding some of the rules of scholarship in America, such as what constitutes plagiarism. Cooney says that some cultures have differing views of plagiarism and some have a group work ethic. As a result, he says, they may be unaware that working in a group on, say, take-home exams is not acceptable. University officials say that to ensure the success of international students, they invest a lot of time in student services and seeing that the students are fully integrated into the culture while also being sensitive to their needs.
"­The INTO USF center, students and faculty are deeply embedded as integral members of the USF community," says Wilcox. "We don't house our international students on the margins of the university. We don't teach them on the margins of the university. We fully integrate them. We want the USF community to represent the true integrated global village that will prepare all of our students for the 21st century community."
Cooney says that, at Colorado State, officials have developed an integrated support network across the campus that includes student affairs, housing and dining, and constantly explores ways to support international students.
At Marshall, the INTO program staff work at acclimating international students to the culture, teaching them about American traditions and holidays like ­Thanksgiving, and taking them to football games, theme parks and on road trips to nearby big cities like Cincinnati.
Without such a program in place, says Abu, "I would have been lost and lonely."